Sat November 28, 2074 7:04 pm- Ethe1den Palace, Amhurst, Veronaville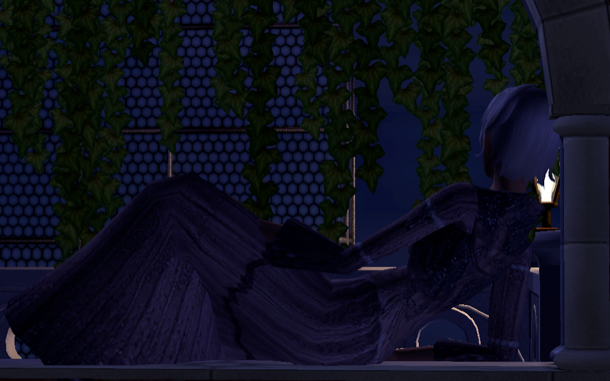 She dreamed of him so often now that she could see him with her waking eyes; a winged and hooded figure charging against the tide. Moonlight wove a jagged white line from the horizon to the shore, black and broken at the hem of his cloak. She could not tell what was real anymore--Whether he was truly there or whether it even mattered if he was.

Her lips stung with the salted air, born of oceans. Her labored pulse drummed out a barely detectable tattoo. She did not know how much longer she could stand to be pacified by phantoms.
It was always this way when he left. The silence relayed her physical exhaustion for miles like a satellite signaling him home. Real or imaginary, she would have been happier to never see him again. But the tiny spark of life that she still called her own pulled towards the life in him.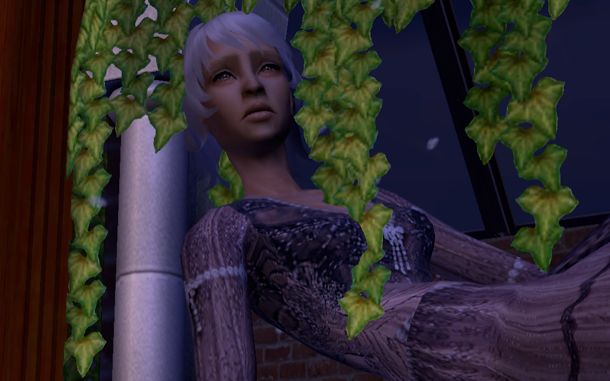 Absently, she ran her hands over her abdomen. What he thought about her was not her concern, nor had it ever been. Her obligation was the only object of consequence between them. The privation of her life force was secondary at best.

Ten years ago, after the Magister Templi requested that a young person to come forward to be a donor, she dreamed of her coal-black hair fading to chalk. She saw the swamps of Arbormoor blossoming with ripened grapes. She scented her own flesh burning at the center of an inferno. Her duty was clear. Her life was chosen to sustain him.
Standing, she staggered over to the balcony, close to collapsing against the marble balustrade. The cold seeped in through her dress, setting her skin alight. She leaned forward, almost perilously. Earth was an eternity away. Up here, she was much too close to God.

With quaking hands, she pulled a glass bead from the sleeve of her dress. It rested in her palm, anchored only by shadows. She looked on as the bead tumbled far from her reach. It glittered like a morning star until the darkness swallowed it whole. Maybe in twenty years, it would be found by a tall man with sable hair and mercurial eyes. Maybe he would keep it.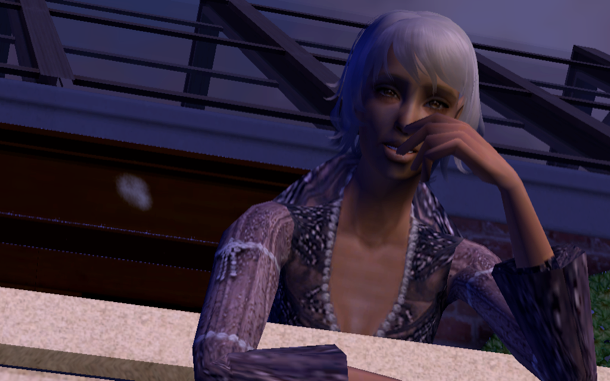 Tentatively, she touched the frayed ends of what was left of her hair, still unaccustomed to feeling the autumn creep against her neck. She had shorn her head the night before like a mourner at her own funeral. Tears surfaced in her eyes, deforming her view of the skyline.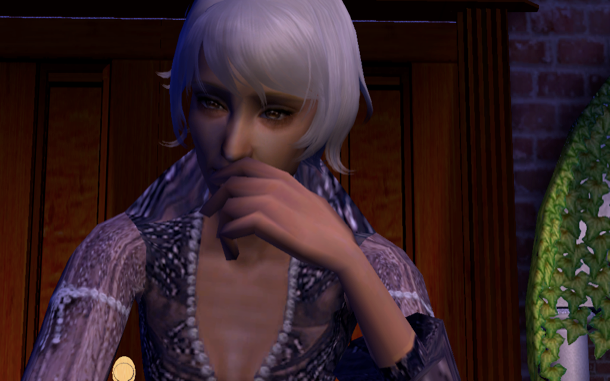 Ten years. She was not meant to have survived his need for so long. No one ever had. He was her via dolorosa, her path of cinders. This way to awakening and to death as well.
Mon November 16, 2074 10:43 pm- Ethelden Palace, Amhurst, Veronaville
(Twelve Days Earlier)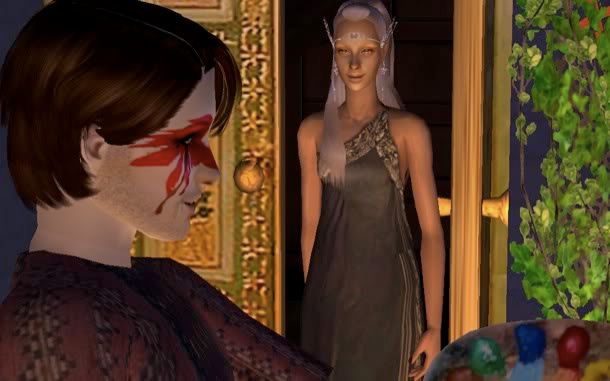 "Close the door behind you." Imina's skin prickled with moisture and electricity. She shut the door with both hands, paying undue attention to the gilt pattern on its frame. Kvornan's paintbrush chimed against the inner wall of a jar. Without looking, Imina could see the gray morass of dissolved pigments swirling like the rapid flux of her nervousness. She had not seen him outside of temple in almost a week. And with each passing day, her energy whispered a new syllable of her secret. It would not be not long before Kvornan could assemble the syllables into words, phrases, entire stanzas of abject poetry.

"Do you plan on spending the night over there?" Kvornan reprimanded. Imina did not respond but stood firmly with her forehead pressed against the door, taking slow and even breaths.

"If I must come and collect you, you will regret it." There was laughter in his voice. It was a dangerous sign. Slowly, she turned away from the door. Imina had been practicing her defenses for days. But there was no use in taking careful aim at someone who consistently outdrew her.
"You called for me, Mahadeva?" she said quietly. Kvornan furrowed his brow in annoyance.

"Don't be so--" he paused in his speech after a few cursory glances in her direction. She did not know what had arrested him but she used the opportunity to draw closer, weighing each step in benefits and consequences. Her mind urged her to flee the conservatory with her life but her body knew no other master than this man. He blinked a few times before smiling brightly.
"If nothing else, I am going to miss the way you substitute beauty for confidence," he mused. Imina had not heard him beyond the word 'miss'. She stopped in mid-stride. For an instant, she had forgotten the very dire and unusual circumstances that had intensified her ordinarily formidable dread of him. Her life went where he went.

"I am leaving for a month or so. I thought that I would mention it to you first as it concerns you most," he said. This, Imina did not believe. Never before had he bothered to tell her when he was coming or going. He had ulterior motives. Imina clutched the front of his tunic, hauling him forward. He was smiling at her. And no matter how long or how intimately they knew one another, she could not discern his benevolent smiles from his cruel ones.

"Is that all or am I needed?" she asked softly. His smirk lessened. Imina had a sense that she'd been lured into the eye of a storm.

"No, on both counts. I don't drink from pregnant women," he said. His tone was eerily calm, his expression blank as a snowdrift. Imina backed away from him, gaping. He knew.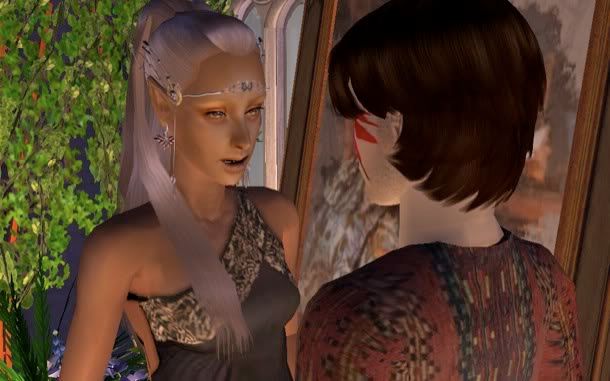 "I- I'm not-" Kvornan took a step forward, filling the space between them. The front of his tunic brushed against her chest. She could feel the coarse ridges of the fabric through to her own skin. The simple heat of his body permeated hers. Imina clutched her waist protectively, her blood roaring in her head. Both of their destinies were forfeit by this. But it was done.
Kvornan leaned forward until their lips were touching. His breath ran cool across her face.

"One of your scarves was found in the Magister Templi's study. Would you care to explain that to me or am I to make my own inferences?"

"I am not your consort, Lord." The sensation that passed from his lips to hers heightened her adrenaline. Her lungs contracted. Ordinarily, he might have found humor in her audacity. Instead, he cocked his head to the side, considering her.

"Here is my dilemma," he began.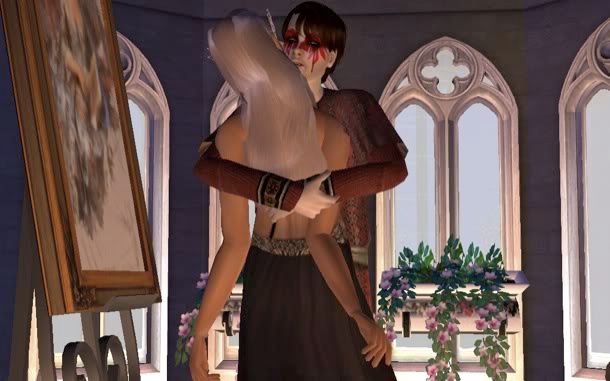 Kvornan grabbed her so quickly that she'd scarcely had time to register the gesture. Her head whipped backwards and she bit down hard on her tongue, drawing blood. With her arms pinned behind her, Imina arched like the curvature of the sky. He would snap her spine. Everything would end here.

"So long as you live, you are mine. And so long as you are mine, I will have no other. That was our pact. This child constitutes another and I may thus have neither you nor it. I don't know which Magus had enough impudence to give you a second glance but this man will lose his eyes and perhaps more depending upon my mood. Now how do you suggest that I solve the greater problem? I could induce a miscarriage but full Fae children are so extraordinarily rare these days that it really isn't an option."
Imina coughed, gasping for air. His proximity was becoming increasingly overwhelming. Her life force careened towards him, begging for release. Had her arms been free, she might have grabbed his head and forced his mouth against her throat. Imina grabbed the leg of the easel, stealing herself.

"You'll just have to kill me after it's born," she choked. Kvornan exhaled through his nose.

"Don't think that I wouldn't. You're nothing to me, you know. Less than nothing." Imina tilted her head until her stare met his. She did not know which one of them he was trying to convince.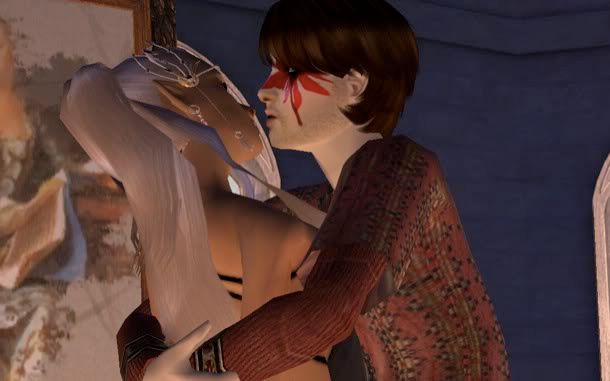 "There is something else that you should know," she continued. Her body heat soared. Her vision waned. If he did not release her soon, she was certain to lose consciousness. Imina focused her thoughts. She may have been outdrawn but she was not yet outgunned. "I had a vision of the child when we were in temple the day after it was conceived. It's a boy with black hair, like mine used to be. And silver eyes. Like yours."
Kvornan let go. Imina coughed violently, spraying the blood from her tongue into her hands. When she straightened, she discovered that Kvornan was making no attempt to disguise his shock. It was as though the possibility had never occurred to him. And maybe it hadn't. He could be surprisingly thick at times. Imina shivered as her temperature equalized. The truth was so much more tangible now. It was written in the air between them.

"I slept with Magus Rodin to divert suspicion. I couldn't risk anyone coming to kill you knowing that your task is complete." Imina paused in her speech, studying his frown. Her best interpretation was worry but she would never know for sure.
"God," she scoffed. "The look on your face right now. This is all very ironic, isn't it? For years, everyone has been waiting for you to finish me off. And now it is I who will be the death of you."