Sun, November 29, 2074 7:37 pm- Ethelden Palace- Amhurst, Veronaville
Selket learned to navigate passages by tracing handprints along the wall, heeding individual currents of breath, listening for expired voices. The narrow halls that lead to Ahriman's study were heavily trafficked by Magi and students. All Selket needed was to follow the displaced pebbles at her feet. The names of each passing visitor were etched into the dust. With her eyes shut tight, there was no place that she could not find by trailing after those who had been before her.

But tonight, Selket was seeking out one former presence in particular and most exceptionally, she came up with nothing. There was not a whisper of the palace Subaltern. The sickly young woman kept close enough counsel with the Sheut to know what sorts of magic existed in the world. And for that reason she touched nothing, breathed little, faded into obscurity as needed. That had been Selket's first clue. If Imina Brylowe left a scarf in this study, then she meant to leave a scarf.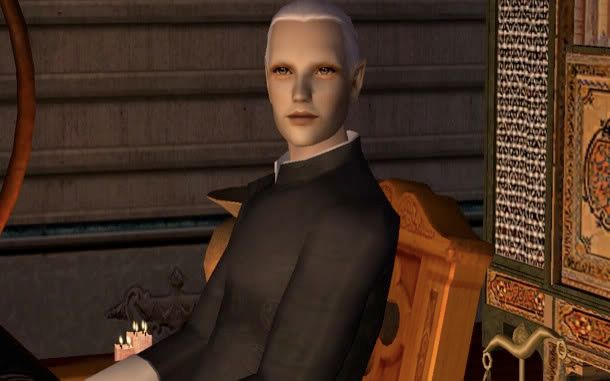 "Peace be with you, Mistress Redding." Selket opened her eyes. The room was bathed in light, sweetened by a pale smoke. Sand hissed as it slipped through the neck of an hourglass. Ahriman inclined his head towards her. "This is rather unexpected," he said placidly.

"But welcome, I hope." As she spoke, her voice trailed. Slowly, she looked to her left, feeling as though she were being watched.
The atmosphere was so congested with energy that Selket had not initially noticed Magus Rodin seated at the far end of the room. His copper eyes openly traced the contours of her body, appraising her as he might have done to a rooster before a cock fight. Selket turned her head away from him, pretending to take interest in the objects littered throughout the room. Rodin should have been divested weeks ago. But Selket rarely argued with Ahriman's judgement, even when she thought it to be impolitic.

"May I offer you a seat?" Ahriman asked. His voice was soft. His eyes, serene. Selket fidgeted, briefly torn between what she wanted and what she ought.

"Thank you but might we speak in private?" she said, passing a glance over her shoulder at Rodin. The Magus threw back his head and addressed Ahriman alone.

"Magister Templi, I don't think it terribly appropriate to let a woman-"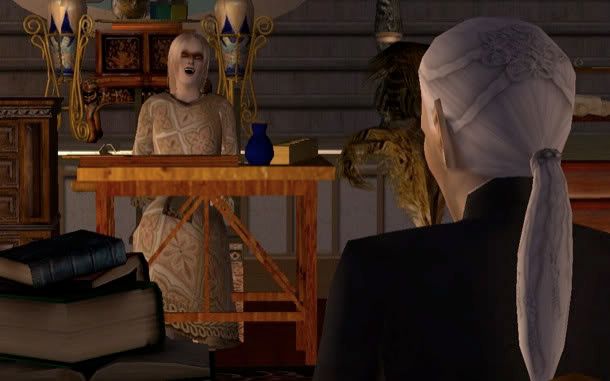 "Please," Ahriman interrupted, making a swooping gesture towards the door. Magus Rodin paused before gathering his satchel with a huff. As he exited the study, his robes brushed against Selket's shoulder. It was almost as though he meant to emphasize the bareness of her arms. But she knew that he wasn't quite so clever as that. Selket gathered her skirts and moved towards the desk.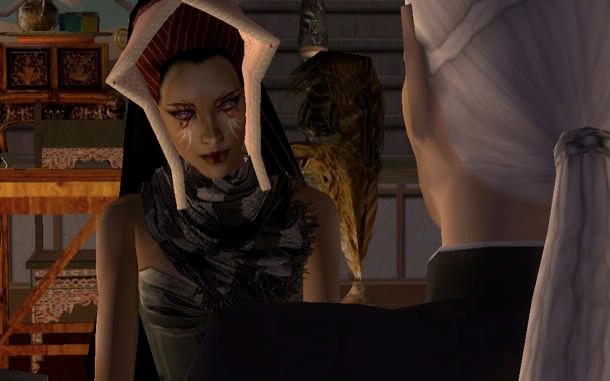 "That boy is a hypocritical ass," she blurted, landing heavily on the cushion adjacent Ahriman. He raised his eyebrows only slightly.

"Selket..." he whispered. She leaned forward over the desk, pausing when Ahriman's posture stiffened. She had never known him to back away from anything as he did her proximity, curling in upon himself like a centipede. She clutched the edge of the desk, lowering her voice to a hiss.

"Why is he still here? You can't seriously intend to stuff him beneath your skirts and pray that the vampire Sheut doesn't reach him there," she chastised. Ahriman winced. If he were furious enough, the vampire would go through Ahriman to get to Rodin and not think twice.

"Well what would you have me do? Cast him to the wolves? He's my nephew." Selket waved her hands impatiently at the question.

"Send him to the colonies or something. Have him study at the monastery. Out of sight, out of mind."

"And if Imina chooses to go with him? We would be inviting the Sheut's anger. It's a risk, Selket. And a terrible one."

"So don't give her the choice!" The bookcases behind Ahriman quaked. In her annoyance, Selket had not meant to do that. She slumped low over the desk.
Hell rot Rodin Chi'en. If Ahriman wasn't careful, he would be hurt or worse-- scrutinized. And that was the last thing that either of them needed.

"Send him in secret. Send him while the vampire is away. Don't even give him time to pack. Just get him out. I know that you feel obligated to the boy but for the love of God, where are your limits? He's an idiot and a fornicator. He brought this upon himself. The fact that you did not simply dismiss him out of hand has people talking. If the vampire discovers that he is still a Magus, it will be an insult. Best case scenario would be that he lets Rodin alone but keeps a close eye on you. We walk a fine line, Magister Templi. And you bring too much attention to yourself by getting involved." Ahriman massaged his temples with his fingertips. To her, it seemed a sign of indecision. But she would press and press until his resolve gave way. She would not allow a fool like Rodin to bring down the greatest leader that the resistance had ever seen.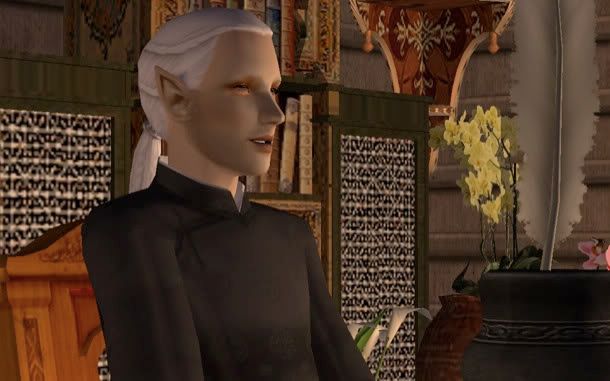 "I... Rodin cannot be replaced. None of the students are ready to be Magi. Most of them will never be ready. This problem is not a Gordian knot, Selket. We are, as they say, screwed," he murmured.

Selket knitted her brow, casting her eyes down into the grain of the wood beneath her hands. She was beginning to see the framework of God's great design, the extraordinary plexus of causal relations that snaked through eternity with gaping mouths seeking their own tails. Rodin was expendable because he needed to be.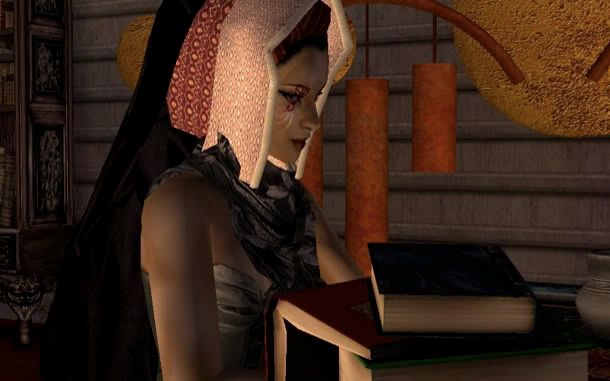 "No," she said. "There is someone. He would need training but only a few months' worth. I think he would take Rodin's mantel if you offered it. But you will want to meet with him regardless. He is... exceptional. His name is Jack Dalton. He's a teenaged numbers runner for Addison London. I met with him. He has a field of magical energy that borders on divine. And he knows how to use it."Ahriman's face fell into disbelief.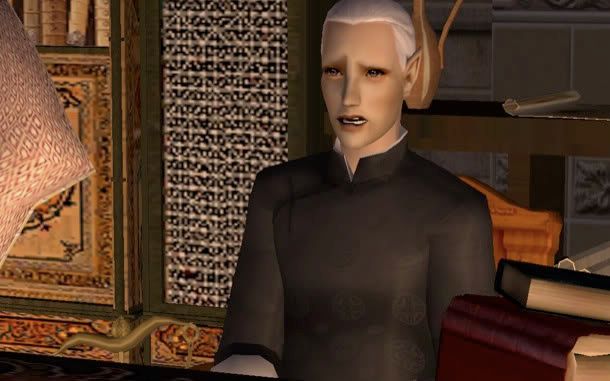 "Come again?"

"I think he might be Orion Specter's son."

A palpable silence blanketed the room. Ahriman's usual sense of composure and decorum withered. Perhaps he thought that she had taken leave of her senses. Selket grabbed his hands.
"No matter what you think of me or what I've done-- No matter if you're stupid enough to keep Rodin Chi'en in your employ-- We need this boy on our side. He understands his magic intuitively. I've never seen anything like it. If we don't get to him first someone else will. Do you trust me?" Ahriman relaxed against the back of his chair. She had only ever asked that question of him once before and the answer had been yes then, even against all logic. Ahriman nodded.

"Rodin leaves tonight."
November 27, 2054 1:04 am- Vajra Maximum Security Penitentiary- Mantua, Veronaville (Twenty Years earlier)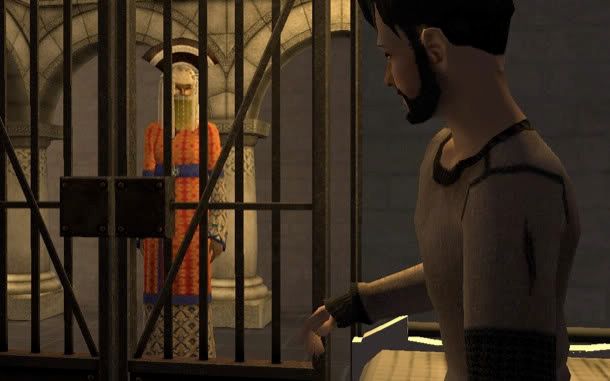 "Hello, Magus." The room shook to the timbre of the prisoner's greeting. Selket froze, taken aback by this manifestation of his vigor. She had expected to find him more than half dead, bloated and festering like some tempest-tossed corpse. But as he swung his legs over the edge of the bed, it became glaring apparent that he was nothing of the sort.
Selket stepped forward tentatively, her face falling into shadow. It was remarkable, really. The man that she had seen on the floor of this cell two weeks prior had been just a stone's throw away from the grave. She was certain that no one had been attempting to correct the situation and yet there he sat, healthy and even relatively clean.
"I do wish you would pick up the phone and give me a ring before popping 'round like this. If I'd known that I was having guests, I might have stuffed a roast in the oven. Fancy a G and T? I'll go get the pinocle deck." Selket's English was not colloquial enough to have understood about a third of what Orion was saying and she suspected that he knew as much. She shook her head and exhaled.

"I've come to ask you a favor," she said in her language. The daemon smiled, almost expectantly.

"Ask away."

"Tell me the truth about your purpose here."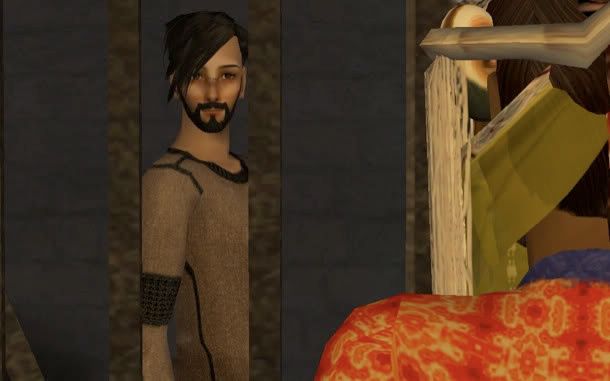 Orion rose to his full height, at once magnificent and monstrous. Selket reminded herself that what she asked was no small token. She did not know what his orders from Deus Rex were. She did however know that whatever the task, they had enlisted a creature who was quite literally the father of lies. The truth was guarded.

Orion walked towards her and she held her ground. Smirking lasciviously, he wrapped his fingers around the bars.

"What will you give me in return?"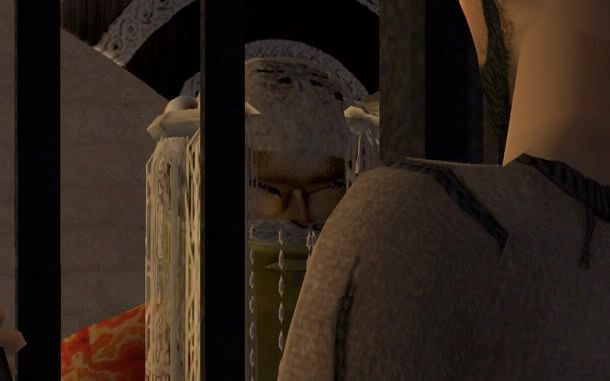 "I have the ability to let you out. And if you care about your mission, you will answer me honestly."

"Sorry, love. I only trade like for like. If you want me to reveal a truth to you, I must receive a truth in return. Else I will discover naught."

"I have nothing to hide."

"Oh don't you?"
Selket bowed her head, understanding what he wanted-- A truth that was in proportion to her with what his truth was to him. Orion reached for her face and she pushed him away.

"Don't touch me," she snapped.

"I could go back to sleep, if you like."

"You're vile."

"Am I to take that as a yes?"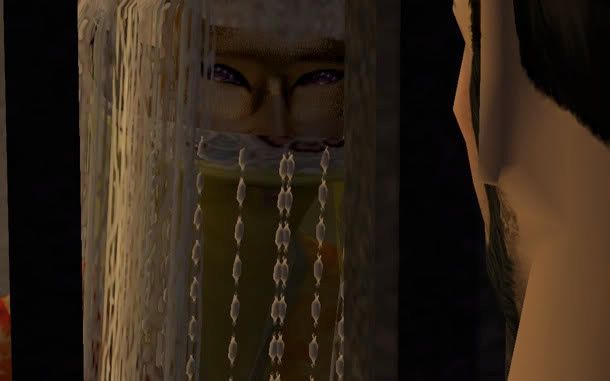 Orion pivoted slightly and Selket grabbed at his sleeve. Her hand trembled, more from the thought of what she would have to do than from the act of touching him. The former Magister Templi recognized her potential and ordered her face covered before she learned to walk. She herself was not entirely certain of what she looked like beneath the veil. Her mother tied it each morning, painted and masked her. Selket was only ever handed a mirror after the chore was complete.

"This game is starting to bore me, Magus." Orion tugged his sleeve from her grasp. Selket pressed her forehead against the bars.

"How can I trust you?" she whispered.

"You can't."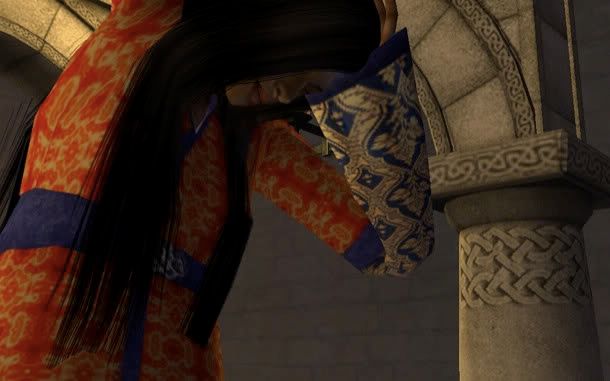 She pulled away from the bars and ran her palms over her head. In one fell swoop, the many pins and scarves that held her together packed themselves neatly into the interior pockets of her robe. The paint washed from her face. Her hair tumbled down in smooth sheets.

She could not trust Orion but if the safety of the Ib was truly at stake then her choices were few. She was prepared to let him go if only he told her what she wanted to hear. She was prepared to be either right or wrong in doing so. She was prepared to defend her actions. In a few moments, there would be no going back.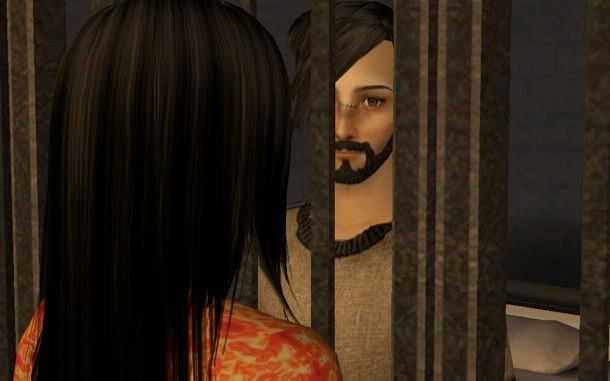 Orion looked her in the eyes, far more directly than he had done a moment before. He was trying to make her feel vulnerable and it was working. The focus of his energy shifted. She did not know what to make of it.

"I underestimated you, Magus. I didn't think that you would do that," he said.

"Our bargain?"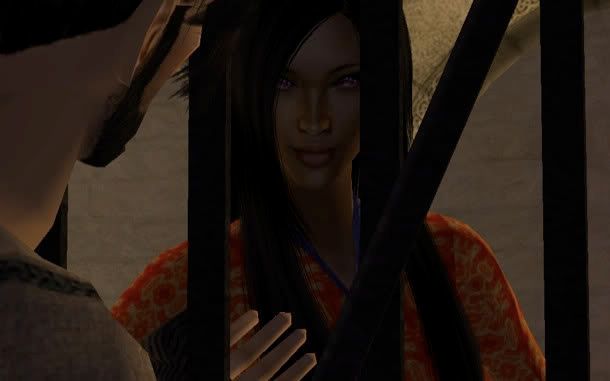 "I was sent to put events into motion that would lead to the destruction of a vampire who threatens the sanctity of the Ib."

"The Sheut of Proximus Deus, you mean?"

"Ah. Yes. That. Maybe," he chuckled, inclining his head to the side. Selket rolled her eyes. Evidently, her collateral was spent. She ran her hands up the flaking bars, searching for an opening. Ahriman's matrix of enchantments was daunting but if she knew him, which she did, then the structure would not be without its weak points.

"Stand back," she cautioned. Orion leaned away but otherwise did not budge.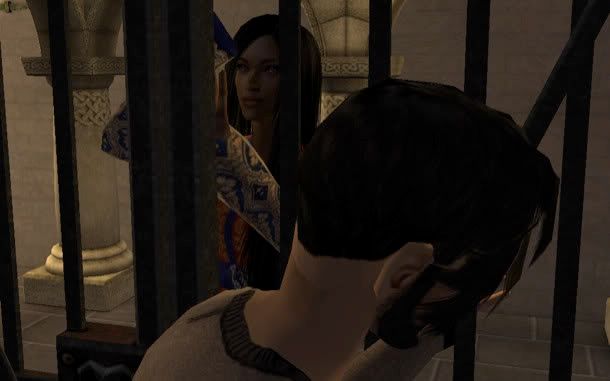 "Such talent. And you tuck it away from prying eyes just as proficiently as you cover your pretty face. You have surpassed him in your abilities, you know. He fears this from you. He is not stupid."

Selket's nostrils flared but she did not allow the daemon to distract her from her work. The strength of the encasement on the jail cell alone proved Ahriman's competence. Selket's careful ability to slip between the sinews and tear its fabric from the inside proved her mastery.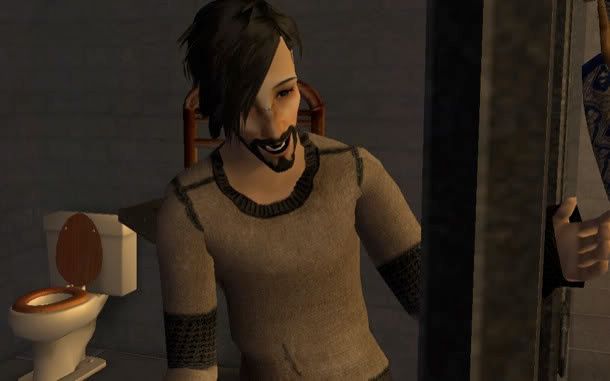 "We have a lot in common you and I," Orion rasped. "We exist behind great barriers of mystery." The bars sparked visibly. Selket let go by reflex. She had made a misstep. She began again, running her palms over imperceptible locks.

"I am a Magus," she said, drawing a firm, distinguishing line between herself and the man behind the iron. He smirked in response.

"Yes. And 'in your heart is a secret knowledge and on your tongue, an encrypted word.' My sister wrote many of the tomes you study. I could recite them for you verbatim. But even on a more basic level-- We ask ourselves the same questions, do we not? Our magic is but a mediocre imitation of His genius. It then becomes a debate of authenticity-- genuine achievement versus clever posturing. And if what we do is the latter with no chance of achieving the former then we are liars by our very nature." Here he paused to take a wheezing breath. Selket could hear the phlegm dividing in his chest. The bars rattled as the encasement bent to her will. Selket pursed her lips.

"I have no interest in your sophistry."

"Just making small talk." The doors gave way with a heavy clank and Orion skipped backwards as the magical barrier shattered.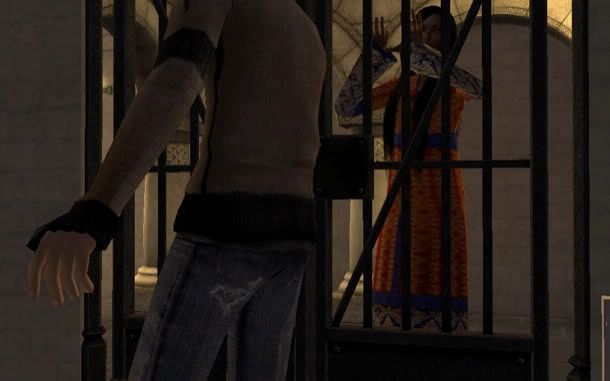 With one final push, the door swung inward. For a moment, they only stared at each other across a threshold of open air. Selket knew from Ahriman that the man Orion Specter had spent his entire life in cages. She wondered how much of that was hardwired into the mind of the daemon who now stood before her-- If he was so accustomed to boundaries that he would not attempt to transverse them even in their absence.

Selket stepped into the gateway, thinking that she would need to pull him from the cell but he charged directly for her.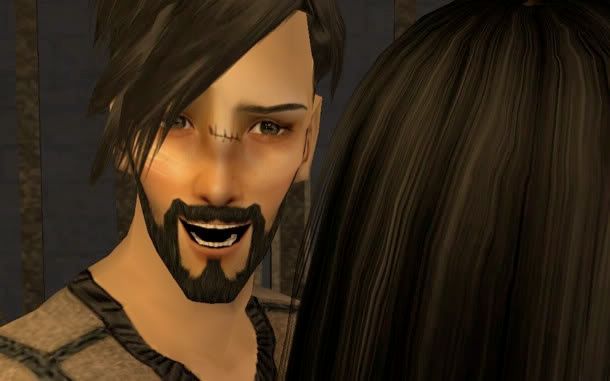 She ran backwards for a few paces but he caught her, seizing her by the arms. Her stomach lurched when she realized that she was outmatched both physically and magically. He could lay her to waste right there.

"Now here's where the fun begins. You've just off-set a silent alarm. The guards will be here in less than three minutes. I am going to leave by way of the southwest passage and stow away on the 2:10 train to Kings Contrivance with a final destination of Millhaven, Pleasantview. You will know all of this but you will tell the officers under threat of torture that you sent me on the ferry to Kent. The coast guard will overtake the ferry. I will be halfway to Lanceshire. And you may want to get used to this whole bare-faced thing you have going on here because the Magister Templi is going to be pissed. Luckily though, it's a good look for you. Really brings out your eyes. And your nose. And your lips.

Where was I? Oh, right. Divestment. You'll be divested. Ahriman will tell everyone you're a fornicator since no one really knows that I'm here or what-all I am in any case and that will serve as his justification. He will feel comfortable in his lie because you're going to tell him that you came back to see me because you were fascinated by my very existence and when he senses little bits of my energy tangled up in yours, he's going to assume that you're a fornicator anyway. Then you're going to say that you let me out because it would have been cruel to let me die. Are you with me so far?"
Orion grabbed her waist with one hand and her wrist with the other. Her body involuntarily lurched to meet his. For an instant, she was swept into the folds of his life force, not lost but enveloped entirely. From this vantage point, she could see the entire anatomy of his soul. There was the smokeless flame and here were its crimson wings.

"This is my contribution but you don't get to keep it. It's unstable." With that, he delivered a jolt of energy so strong that she seized. White hot tendrils of electricity surged through her, wiping her mind clear of all thought.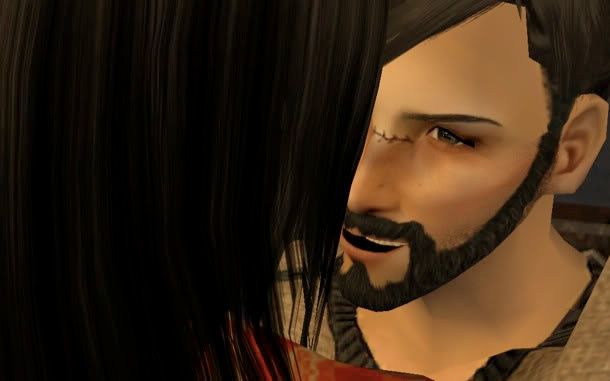 Orion pulled her in close. As her sense of reality returned, she became very acutely aware of her own heartbeat and the fact that he was controlling it. He had dangled her at the cusp of death and was now reeling her back in. Even as her body stopped shaking and the pressure in her head equalized, her awareness broke away. Selket was an outside observer to everything that she might have previously deemed

self

. Her consciousness was a double-sided mirror. She closed her eyes and shook her head, trying to free herself of sensations that went beyond the realm of normal human experience.

"I don't understand." She had not meant to say it aloud. Orion stroked her hair and whispered in her ear.

"You are not here for you have risen."