Fri November 27, 2074 8:02 pm- 88 Wilkins Ave. Camden, Pleasantview
The patio door opened, forming a tear of yellow light against the ashen shingles. Vince hurriedly shoved his broken lighter and unlit cigarette back into his pocket. He fully expected to see stray wisps of wild red hair pass through the door before the feet or even the face but the black sneaker that landed on the deck did not belong to his sister. Vince took the cigarette back out. His visitor was a man who carried his own fire like the churning belly of a volcano.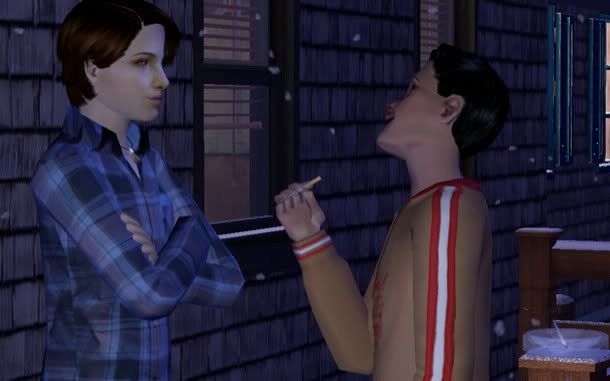 "Oh. I'm sorry. I didn't realize that anyone was out here." Vince brushed a snowflake from his shoulder, shaking his head at the intrusion. Kvornan could come and go wherever he pleased as far as Vince was concerned. Any quarrels that he might have had with this man were forgotten the instant Ermengarde opened her eyes. "It just seemed to be a good place to hide. Ermengarde is playing her Patty Peppercorn tapes," Kvornan continued dully. Vince nodded his head up towards Kvornan.

"You got a light?" he asked. Kvornan shrugged in response.

"That depends. You got another cigarette?" Vince reached into his sweatshirt and produced the half-empty pack. He pulled one of them free and pointed the filter towards Kvornan, who hesitated before taking it. "Does your sister know you do this?" Kvornan asked.

"Are you kidding? She'd crucify me," Vince said. Kvornan shrugged, seemingly in agreement. Shoving the cigarette into his mouth, Kvornan rolled up his sleeve, baring his pale wrist. He cupped his left hand and a small flame sprang from the center of his palm.
Startled, Vince jumped back, watching the tiny flame dance in the wind, white gold and smokeless. He laughed uneasily. He could remember Kvornan doing things like that to amuse him when he was very little but now it was more frightening than fascinating. The chains on the swing set in the yard rattled, gruffly coerced by the breeze.

"That's pretty cool," Vince said, leaning forward to light his cigarette. He placed the filter to his lips and inhaled.
"If you think that's cool, you should see me grill a burger." Kvornan spoke around the cigarette dangling between his lips. His face reflected the light like lunar dust as the fire leapt from his hand. He opened his mouth to release a gossamer cloud of smoke. "I haven't done this since I was your age," he said, smirking at the cigarette in mild disbelief. Vince blew smoke through his nostrils.

"Why'd you stop?" he asked. Kvornan's gaze darted some place behind Vince's head but did not focus on anything in particular. He flicked his ashes onto the deck.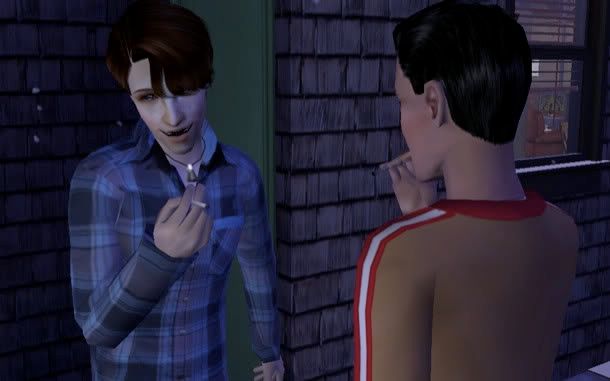 "Girlfriend got pregnant. Didn't want to smoke around her or the baby," Kvornan said stiffly. A brusque wind crept under Vince's collar, stinging the sensitive skin above his clavicle. He clutched his shoulder near the base of his neck.

"That sucks," Vince commiserated.

"Yeah, I thought so too at first. But then the kid transitioned from womb to room and well..." Kvornan rolled down his sleeve, falling silent. Vince hardly knew anything about this man's past other than what his mother told him before she died- And that was simply not to ask Kvornan about his past.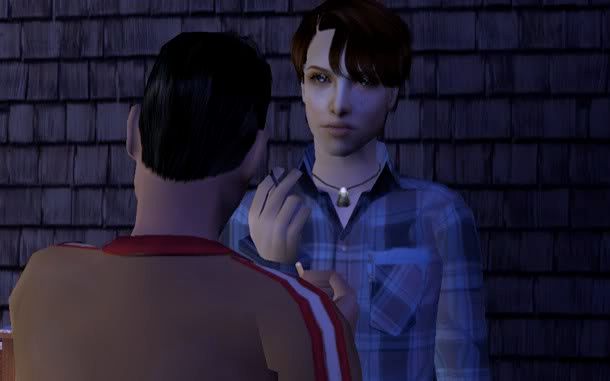 "Do yourself a favor," Kvornan continued. "If given the choice, don't sit on the shelf beyond your sell-by date." Vince laughed dryly.

"I'm fourteen and I smoke three packs a day. I don't think I'll have to worry about that."

"Likewise, don't let life make you so prematurely jaded. That'll kill you long before these things do."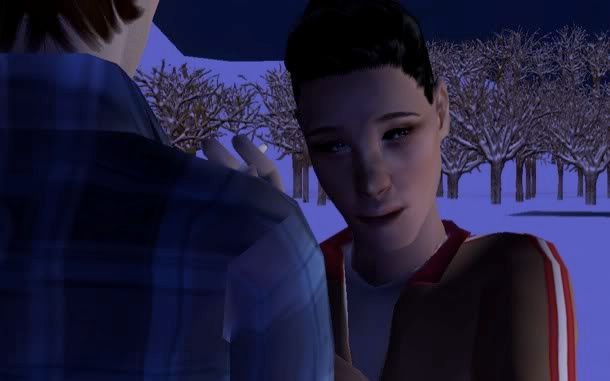 Vince bit his lower lip and looked away. By this point, he'd been on the receiving end of innumerable lectures from teachers and guidance councillors, neighbors and social workers. An endless parade of grown-ups that had never lost anything of significance in the whole of their lives- Each one of them dead set on telling him how to run his.

He didn't sleep anymore. Ermengarde's condition had seen to that. Instead, he spent his nights pacing the yard, paranoid and jittery. The smoking helped in small measures and only for as long as the cigarettes lasted. But he had long ago passed the point where a nicotine buzz and empty words from barely accountable adults would dig him out of his crumbling reality.

When Vince looked up, he found Kvornan studying him intently. The shiver that ran throughout his extremities had little to do with the cold. Anyone who spent any amount of time before the gate of Kvornan's stare would necessarily see into the abattoir of his misery. It was destabilizing to say the least. Here was a bird who flew on broken wings.
"So what keeps you going?" Vince asked after a moment of silence.

"Elise." Kvornan invoked her name with the same finality, the same assertion that a person only ordinarily reserved for self-evident truths. Snow is cold. The sky is blue. Elise is my reason to live. "There's nothing in heaven or on earth quite like your sister."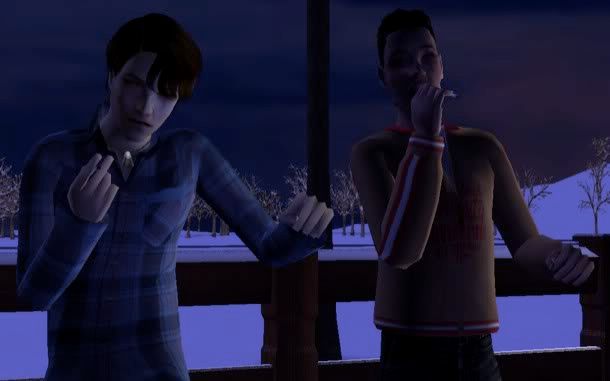 Just then, the door flew violently open. Kvornan spun around and walked backwards for a few paces. Vince froze in mid-action. Elise was charging out onto the deck with the ruinous force of a flash flood. Vince tried to hide his cigarette behind his back several seconds too late.

"What do you think you're doing?" she screeched.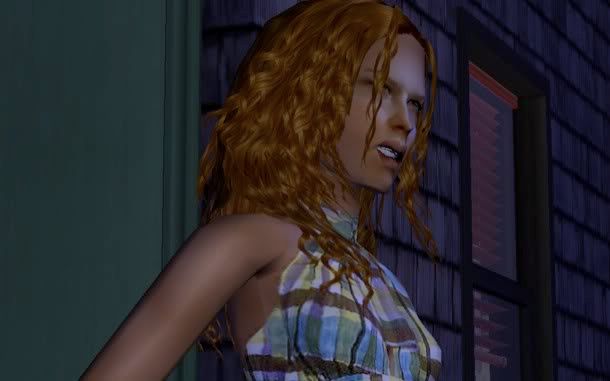 Vince began to stammer out a reply but was cut off when Elise turned to Kvornan and yelled, "I wasn't talking to you!" Deeply confused, Vince looked back and forth between the pair. Kvornan was laughing now, though Elise was still dangerously seething.

"I didn't say a word." Kvornan snickered.

"You're in hot water too, Mister! You're encouraging him!" As she shouted, her ears crimsoned beneath her crow's nest of hair.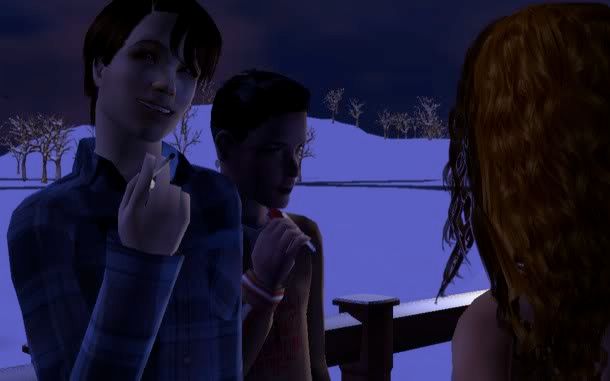 Vince sank into the background, nearly forgotten while Kvornan and Elise continued to squabble. His presence was rendered extraneous, even in a conversation that was essentially about him.

Extinguishing the nub of his cigarette on the wooden guide rail behind his back, Vince thought to himself that he was going to quit. And it had nothing to do with his sister's fury. He would not be eaten alive by trials too big for him to overcome. Not anymore. Kvornan was right. Vince didn't have that kind of stamina.