Fri November 27, 2074 4:01 am- 88 Wilkins Ave. Camden, Pleasantview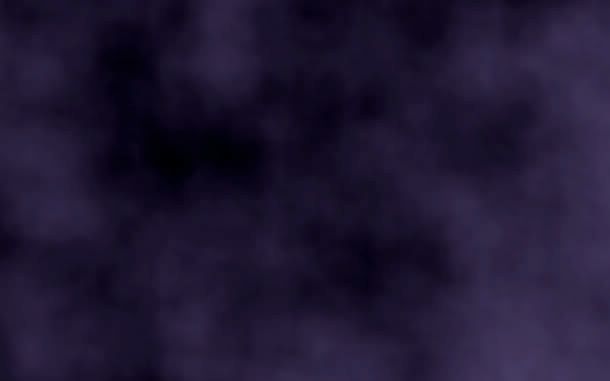 In the beginning, there was nought and the nought was called God, uniform in its perfection. Today this nought stands like the silver coat backing a mirror- Known but essentially unknowable. And the Sheut passed through it, a man stepping into his own reflection, an insect beating a path beneath the thrones of Titans.



Music. The chime of silverware. Hushed laughter. When the Sheut opened his eyes to the light, his wings brushed against the oak wall of an upscale restaurant.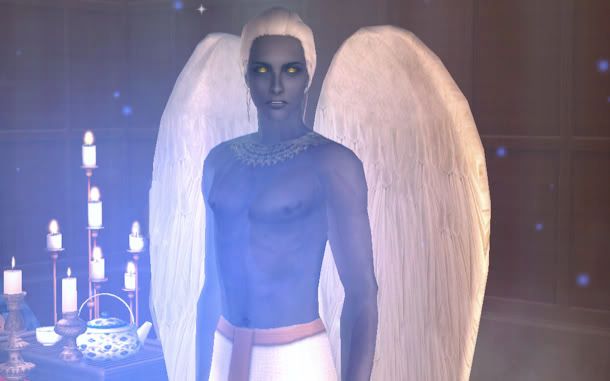 Ermengarde's psyche hummed with the gentle din of polite conversation and of a woman singing through the overhead speakers. I don't want you but I hate to lose you. You got me in between the devil and the deep blue sea.

The restaurant was packed with well-dressed patrons, swiveling their liquor and crossing their legs disinterestedly. At first, the Sheut did not understand how one little girl could accommodate so many entities but as they turned one by one to look at him, he knew.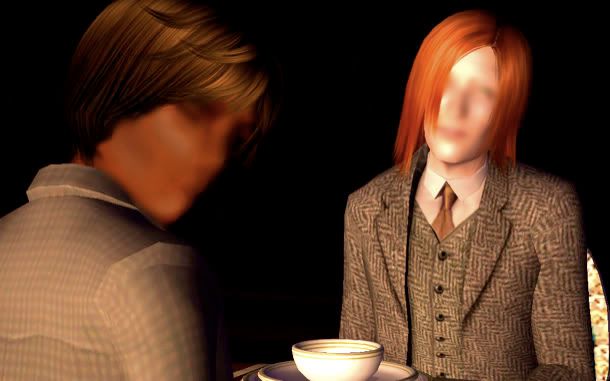 It was as though some ghastly hand had rubbed their features clean away like the rain might have done to an old penny. These people were figments- False energies conjured up as a sort of battering ram to crash through Ermengarde's already paper-thin psyche. Beyond the veil of noise, the Sheut could make out the depressions where their faces should have been. They were not real. But their master was. And he was necessarily seated some place in that room. The Sheut's gaze filtered through the crowd.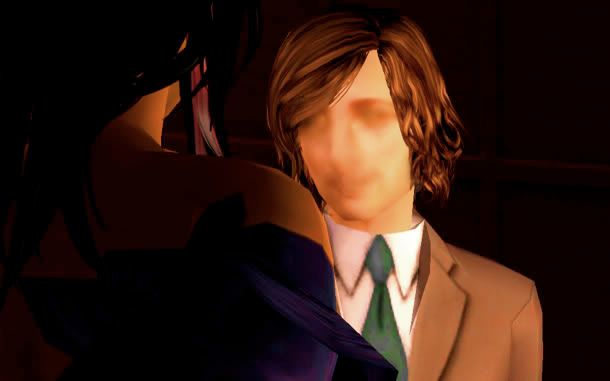 Deep down, he had always known that something like this would happen. His situation with Elise was so unusual and so precarious that by its very nature, it was bound to attract unwanted attention. There were creatures in the universe that served only chaos. If they thought that they could alter the course of the history by destroying the Ib through those she loved, they would.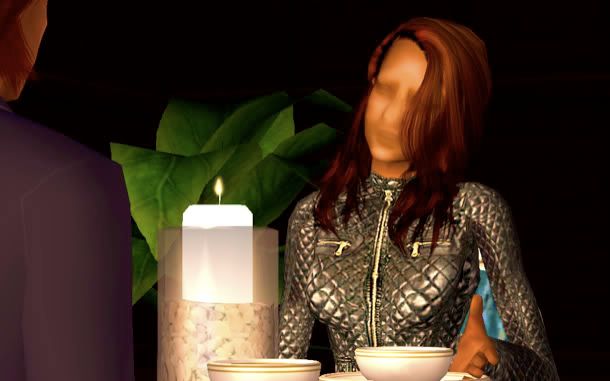 I forgive you 'cause I can't forget you. You got me in between the devil and the deep blue sea. The Sheut hated that song. He put his fingers to his lips and whistled sharply. The room fell instantly still.
"I am Kvornan, Sheut of the Fifth Age and your presence here contradicts the mandate of our will. Who answers for this trespass?"
Nothing stirred at first. And then slowly, the army of figments parted, leaning away from their center like tree branches in the wind.
There was a man at the heart of the crowd, stony and calculating. He looked the Sheut dead in the eyes as if to say, I dare you and the Sheut unfurled his wings in warning. Somewhere in the universe, time was lost and gained. The Sheut bared his fangs.

"Where is the child," he growled. Taking sudden amusement in the situation, the man tilted back his head and chuckled. The figments began socializing anew as if the Sheut had never been.
"Waiter!" the man shouted. "There appears to be a fly in my soup."


His words were followed by an abrupt silence. The record stopped. Everyone vanished. The presence had seemingly fled. All that remained was the Sheut, stewing in his unheeded majesty. It was farcical, really.
The Sheut took a few swift steps through the empty room. Ermengarde might have been somewhere unreachable by now. He prayed that she was not. He looked about the room for an exit and when he found it, something darted near the corner of his eye.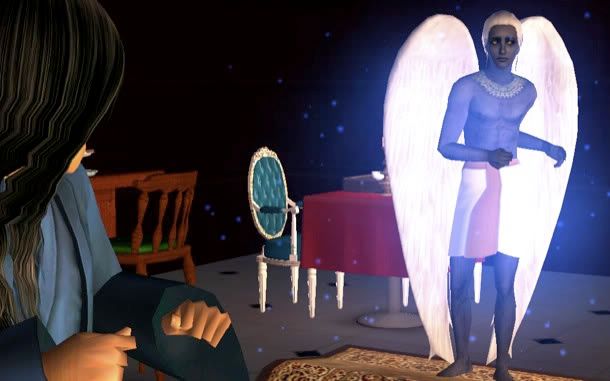 He paused in mid-stride. Before him was a child of thirteen or so, barring the doorway like some kind of giggling sentinel. He paused as the Sheut had paused. He dropped his arms when the Sheut dropped his arms. He tilted his head and stood with the dignity of a king when the Sheut merely stood.
"Who in the hell are you?" the Sheut breathed. The boy began giggling anew. He tossed his long black hair over his shoulder, revealing a gracefully pointed ear.

"No. Who in the hell are you?" he parroted.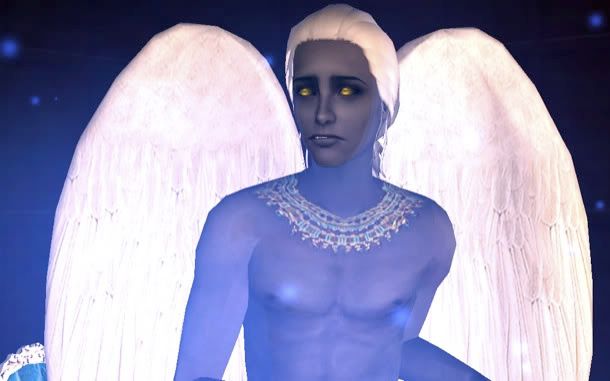 Alexei had once described to the Sheut his experience of working as a newspaper printer in the late 1980's- How he learned to read from right to left. How habit taught him to think backwards. When Alexei Garrison closed his eyes at night, he saw the image of his bedroom in reverse. Life is a wall of mirrors. And this was the view from behind the glass.
The boy's laughter quieted. Candlelight flickered across his face, revealing his eyes to be a clear, silvery violet. The Sheut stood bereft of his body but he could almost feel his heart palpitating. He took one step forward and the boy took a step back.

"Don't go," the Sheut whispered.

"Betcha can't catch me," the boy replied. The Sheut moved towards the boy at a cautious, delicate pace and the boy moved backwards at the same pace; a man chasing his own reflection. Before he knew it, the Sheut was through the kitchen door, standing in an open-air colonnade, naked to the night sky.
The boy was gone. Birds were singing their last atop trees thick with moss. The Sheut could sense a presence nearby but it was not the man from the restaurant. It was a gentler, feebler energy. He pressed ahead, beneath the crumbling stone arches and the swaying vines. His pace slowed as he approached the garden wall where the object of all his searching recoiled from his light.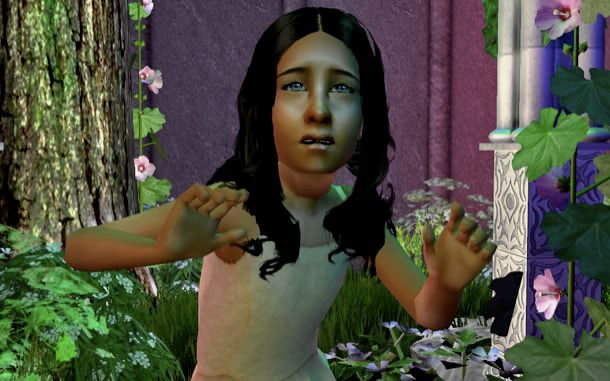 "Am I dead," Ermengarde asked. The Sheut raised his eyebrows involuntarily, curious as to why this would have been her first thought. Perhaps the living all knew him by sight. He pursed his lips and shook his head sympathetically.

"No," he said simply.
The Sheut waded towards her through the grass and she sucked in her breath, recoiling further still.

"It's ok. I'm here to bring you back," he assured her.

"But the people with no faces-"

"They're gone. It's just you and me now." Ermengarde's fretful pout softened but her body still tensed. The Sheut halted just in front of her on the cobblestone path.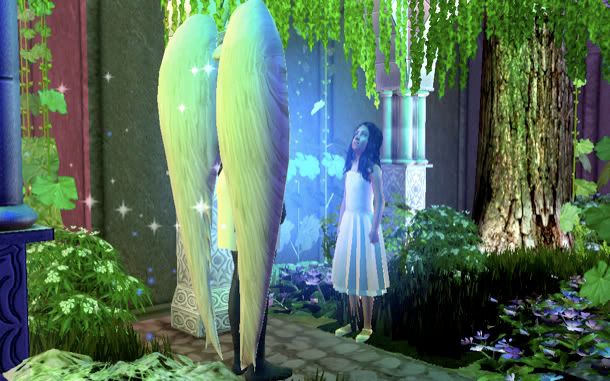 "Are you ok," the Sheut asked. Ermengarde nodded but said nothing. Her eyes widened and her lips parted, wordlessly conveying her astonishment. He did not know what he looked like to her but he wished that he could put her more at ease. Crouching down to her level, he examined her energy. She was addled and a little distraught but otherwise fine. He sighed in relief and stroked her cheek in gratitude to whatever force had preserved her.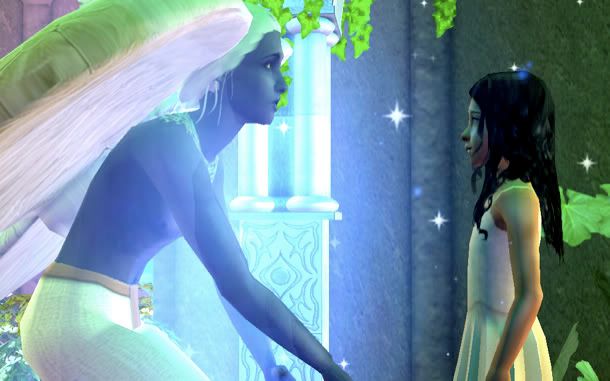 "Do you think they'll come back?" Ermengarde asked.

"I won't let them. Come, you've been very brave and now it's time to go." As he said the words, he felt like he had said them a million times, in a million guises, to a million little girls. You've been brave... Time to go. Ermengarde's smile was sad and quivering. The Sheut opened his arms to her and she fell into them, gracelessly. He caught her by the waist.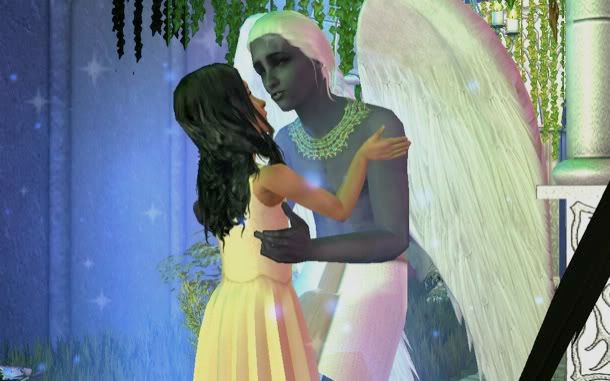 "Gosh, you're pretty. What's your name?" she said. The Sheut lifted her up into his arms.

"I'm called Kvornan." He gently brushed her hair from her eyes and flattened her skirts even though both were only a temporary condition of the dream-state. Ermengarde scrunched up her face in confusion.

"Can I just call you Forn?" she asked. The Sheut chuckled.

"Yes but only you may. No one else." Ermengarde threaded her fingers through his hair and leaned her head against his. She was tired, he could see that now.

"It's ok. I have a hard name too. It's Ermengarde," she said, almost confidentially. The Sheut gave her the most befuddled look that he could muster.

"Herman Gourd?" he asked.

"No, Ermengarde."
"Irwin Lard?" Ermengarde laughed giddily.

"No, Ermengarde!"

"Sherwin Card?"

"Ermengarde!"
"I'm just teasing. I know your name. It's Earwig Garden, isn't it?"

"Nooo! It's Ermengarde! E- R- M- E- N-"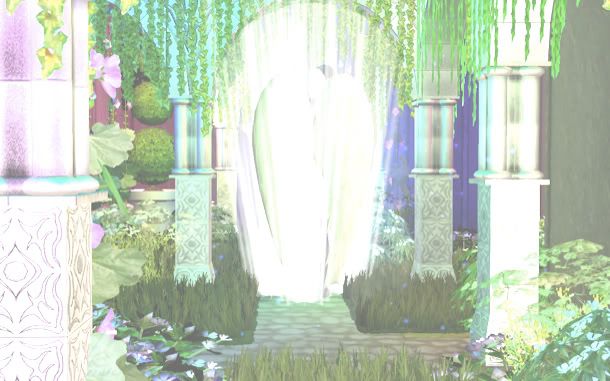 The world was fading. Soon, Ermengarde Mindelsohn would awaken in her bed to find a pale young man asleep in a chair beside her. And for the first time in months, she would feel safe.