Mon, November 23, 2074 1:10 pm: Ethelden Palace- Amhurst, Veronaville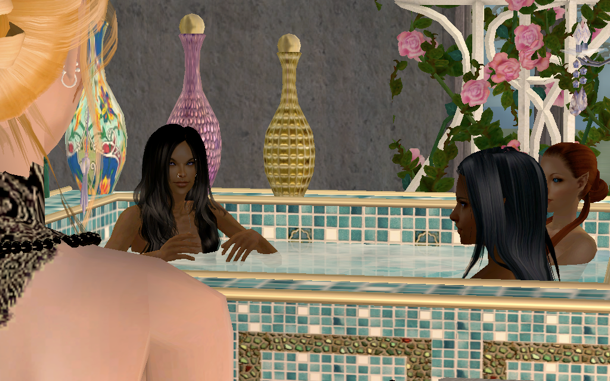 "Good grief! I certainly hope that you don't plan on going to temple dressed like that. Your brother will have hysterics." Devi splashed water in Amunet's direction, her eyes flashing in a way that was as predatory as it was playful. Warm vapors washed over Amunet's body as she stepped forward through the doorway, making the fine hair on her arms prickle. She ran her palms down sides of her skirt, nervously flattening the hoary feathers that decked her hips.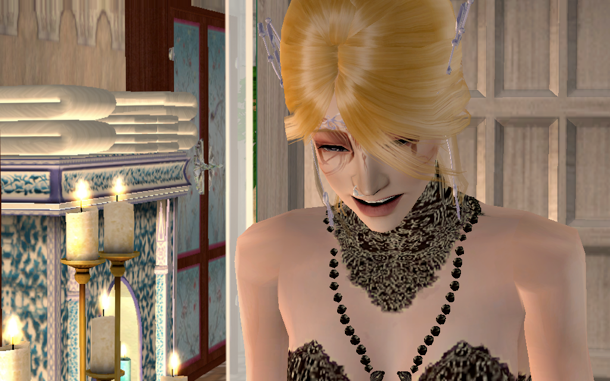 "No Your Majesty, of course not. I'll be dressed," she murmured. In truth, Amunet had not even bothered to change her clothes from the evening before. The better part of her morning had been spent pacing the ladies' tearoom, clutching her throat and arguing with herself. For days, she hadn't eaten. She'd barely slept. She couldn't be certain that she would attend temple services at all, let alone properly dressed. Something was plaguing her and there was only one person who could help. But he was terrifying.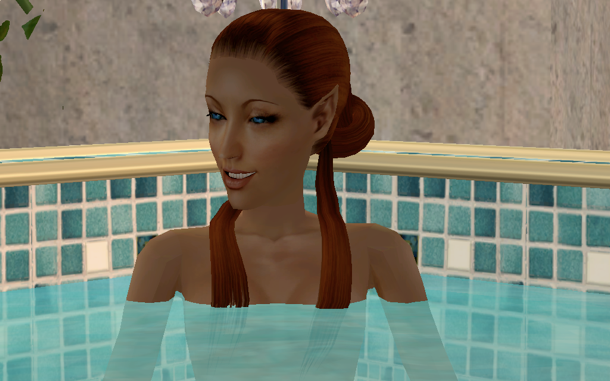 "I have a sneaking suspicion that Magus Rodin has much bigger concerns than what his sister wears to temple," Maya remarked dully, twirling a lock of her long black hair around her finger.

"Increasingly bigger," Zephyr mouthed, using her hands to create a domed arch over her stomach. The ladies all exchanged wicked smiles and knowing glances but they made no further innuendo. Amunet bit her lip and lowered her eyes. She had not forgotten the scandal involving her brother and Imina Brylowe but somehow what had seemed to be of all-consuming importance last week was now rendered trivial.
"Is something wrong, Amunet? You look a bit flushed." Amunet turned her attention to Tara who was standing near the fireplace, wearing the shapeless gown that fae women only adorned for prayer. She sounded genuinely concerned. Amunet crossed and uncrossed her arms over her chest. She was more grateful for Tara's tenderness than she had ever been but all of the gratefulness in the world did nothing for her fear. If anything, it made her feel strangely indebted to Tara and all the more uncomfortable for it.

Devi raised a large bottle of lavender oil from the edge of the bath without the usage of her hands. It floated through the air, towards the center of the bath and collided with the chandelier as it tipped forward to empty its contents. The room was filled with the chime of crystal.
"I'm fine. It's just the moisture in the air," Amunet lied. Tara stared at her wordlessly, inscrutably. Perhaps she knew first hand what Amunet was experiencing. The fatigue. The confusion. The dread. The vague and discomfiting longing. Amunet tapped her fingertips over her lace choker, fighting back tears. "May I speak with you in private for a moment, Your Majesty," she asked.

"Of course, dear," Tara whispered, smiling weakly. Her eyes spoke only pity and Amunet, who had never before felt pitiable, pushed her hair back from her face with more force than the task required.

Tara passed by Amunet, briskly leading the way out. In the hall, she peered into the door of the nearest dressing room and finding it unoccupied, entered with Amunet in tow.
"Now you may tell me what's troubling you," Tara said, gently taking Amunet by the fingers. Amunet closed her eyes and exhaled. She had practiced her request under her breath in the tearoom but she needn't have. It was simple enough. The explanation that followed would prove more difficult.

"I need to speak with Mahadeva," she said. Tara eyed her curiously.

"Mahadeva is away from the palace and might not return for several weeks. Why? Is it urgent?" Amunet's heart sank. She had not anticipated that. As far as she knew, the Sheut rarely left the palace grounds. Amunet stepped closer to Tara, the soft leather soles of her slippers making a rough, abrasive sound against the cement tiles.

"If I show you something, you must swear never to tell a soul. No one but Mahadeva," Amunet breathed. Tara sucked her teeth, evidently put-off by the fact that Amunet would presume to make such a request of her. But she nodded in agreement all the same. Amunet unhooked her choker.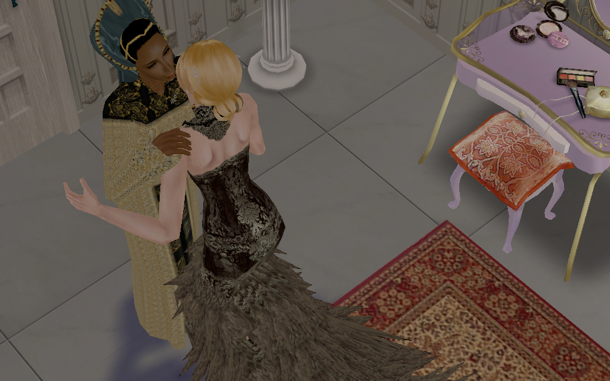 Tara placed a hand on Amunet's shoulder. She pulled back the choker to have a better look at the bandage on Amunet's neck and the abrasion underneath the bandage. When Tara pulled away, she straightened her posture imperiously.

"When did this happen?" The princess's tone was solemn and business-like but she could not disguise the shock that flitted across her face.
"Last Wednesday, I believe. Do you think that Mahadeva might know one of his kind who would go after a fae?" Tara shrugged at the question.

"He rarely speaks about that part of his life. I don't know what he knows about 'his kind', as you say." Amunet rubbed her bare arms, wondering whether she had unintentionally stumbled upon a point of contention between Tara and her consort.

"Is he very secretive," Amunet asked. Tara shook her head slowly.

"No, not secretive. Just ashamed, I think." There was a pause during which Tara peered at the wall, losing herself in thought. "What were you doing when all of this happened? Do you remember at all?"

"I don't remember anything after our crochet circle Tuesday night."

"And the next thing that you recall after the crochet circle?" Amunet placed a hand on her forehead as if to physically extract her past from therein.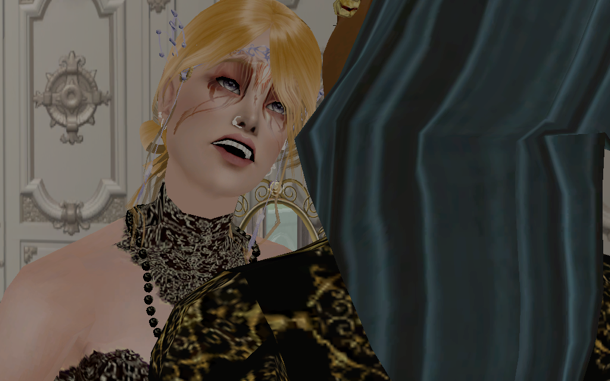 "Well I woke-up Thursday morning at the Seven Towers Hotel in Kings Contrivance. My dress was torn at the hem and my neck was wrapped in surgical gauze. I had a terrible headache. I went to check out at the front desk and the clerk had a note that had been left for me. It was unsigned."

"Did the clerk see the person who left it?"

"No. And she didn't really know when it had been left either." Tara held out her hand, rapidly opening and closing her palm.

"Show me."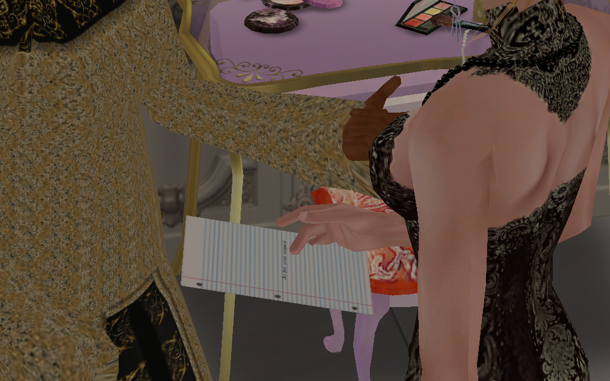 Amunet reached into her bodice and pulled out the letter, less-than-gracefully rearranging her bust. She carefully smoothed the creases on the paper before handing it to Tara, feeling as though she were entrusting Tara with something precious. Tara flipped the page over, studying the paper as much as she did the writing upon it.

"What does this mean, 'as per your request'," Tara asked, frowning.

"I don't know. I can't even imagine."

"And come to think of it, how does a vampire take down a fully grown fae?" Amunet winced. She had almost been anticipating that question. Tara probably thought she'd given herself over to the vampire willingly. Sometimes even Amunet interpreted the note that way.

"I have to assume that it wasn't an ordinary vampire," Amunet said, looking to Tara uneasily. Tara clasped the note between two fingers.

"This is not Mahadeva's handwriting," she replied.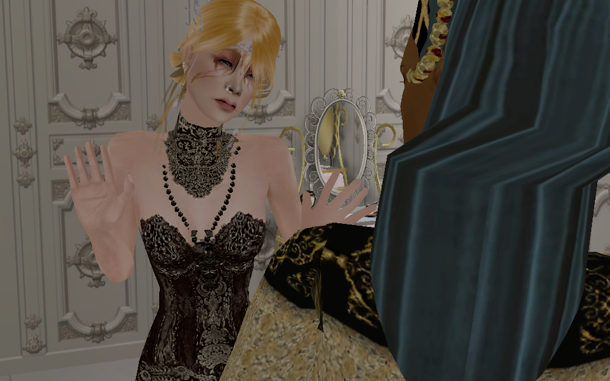 "Of course not! I would never dream of accusing him. I only meant that there had to be something unusual about the one that attacked me." Amunet raised her arms in a gesture of surrender. Tara took Amunet by the wrists and pressed the note into the flat of her hand.

"In any case, hold on to this. If there is a vampire bold enough to take a fae for a victim then he won't stay in hiding for long. We may need this letter to help identify him. Now tell me this- Whose name was on the bill for your hotel room?"

"Mine. He used my credit card." Tara smiled complacently.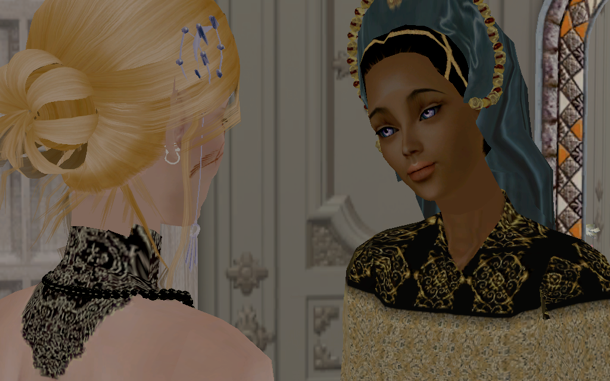 "We'll find him before he tries something like this again. Until then, you are not to leave the palace grounds. This vampire might still be a danger to you." Amunet nodded in silence. Tara took her first step towards the door and Amunet grabbed her arm.
"Wait." A hazy image was starting to take shape in her mind, brought on by nothing. "I do remember something. Water. Salt water. The sea." Amunet turned her gaze upwards to meet Tara's. Underdeveloped images were surfacing, bloated and barely recognizable. "He had hair the color of ashes."