Tues, November 10, 2074 1:05 am: Ethelden Palace- Amhurst, Veronaville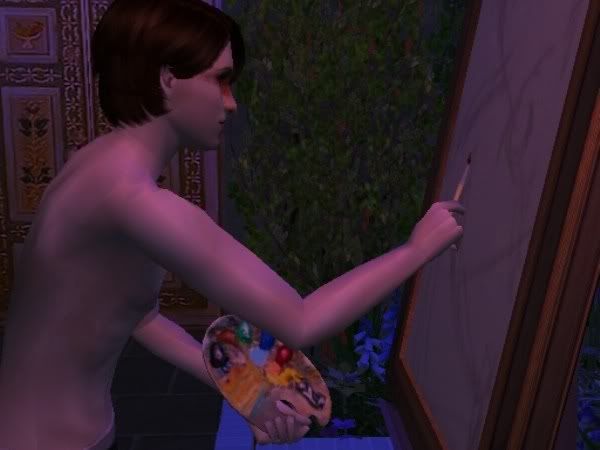 Kvornan froze, listening to the feather-light approach of Tara's slippered feet. Lately, he was becoming more accustomed to that sound than he should have liked to be. He allowed her visits at first because she was the only creature in all of existence bold enough to make them. But as time progressed, he began to worry that their relationship was inviting catastrophe. He would need to push her away.
Tara opened the door without knocking. Ordinarily, their ritual would begin with him chastising her about walking in on him in that way but tonight, he kept silent. Such admonitions were worse than useless.

As she drew nearer, he was finding it increasingly difficult to focus on his work. She had a scent that was rich and warm and deep like the forest floor thawing in early spring. It had driven him to distraction on more than one occasion. Tara stood by and watched him paint for a moment before speaking.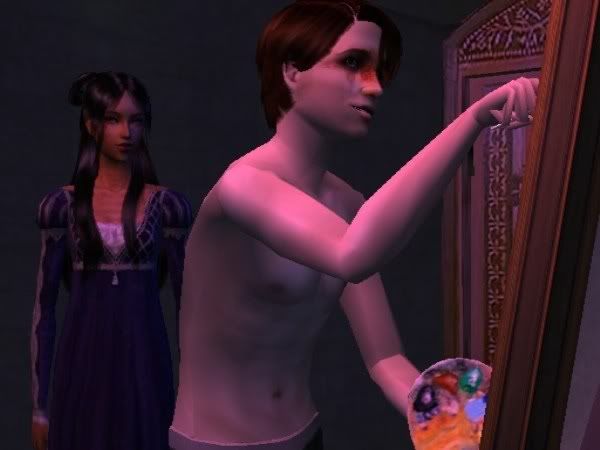 "I honor the divinity within you, Kvornan Sheut of Proximus Deus." They never addressed one another so formally and he wondered what caprice had brought that on.

"And I yours but I regret to inform you that I have neither the time nor the desire to play games with children tonight." Tara snorted incredulously.

"I should have thought that you had nothing but time."

"Time and tedious company, it would seem. What do you want, Daughter of Oberon?"
Kvornan shot a glance at her over his shoulder and immediately wished that he hadn't. He was in an unusually stubborn mood and her cleverness wouldn't sway him. He had already fed that night and her scent would likewise do little. But her beauty was as formidable as ever. He fought back the urge to touch her.

"Sef says that you haven't eaten anything in six days. Or at least nothing that the rest of us would count as food," she said.
"What is Sef now? My nanny? I'm fasting this month."

"How very pious of you."

"It isn't piety. It's penance."

"May I ask what for?"

"No, you may not."

"Would you at least look at me when I'm speaking to you?"

"Don't you have anything better to do, Princess?"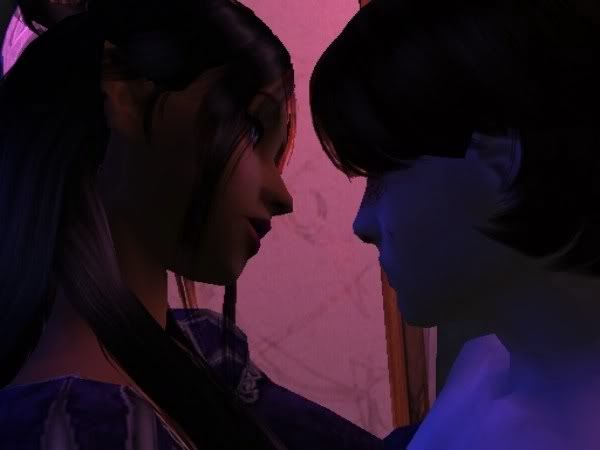 Rampant waves of disappointment undulated from her body and washed over his. He tossed his brush and palette noisily to the floor, knowing that the under painting was now officially postponed. Tara laid her hands on his bare shoulders and spun him about.

"Have I done something wrong," she asked, wiping the blood from his lips with her sleeve. Her gentleness put him in an awkward position. Damn her. This would be the final straw in disarming him.
"No, it isn't you. Listen, Tara- You shouldn't be here. I am an abomination and not just by the grace of my unconventional appetite." Tara gave his shoulders a quick squeeze.

"Have I ever judged you?" It was true that she hadn't. Kvornan met her gaze. There was concern in her iridescent eyes that did not pity. She knew better than to pity. For months, he'd been telling himself that her innocence prevented her from truly understanding (and consequently reviling) him but now he wasn't quite so certain. Perhaps she was harboring an affection that was utterly devoid of conditions.

"That's even worse," he whispered. Tara placed her hands on his back. Kvornan wondered at what point had it become acceptable for the two of them to stand so close to one another, with her chest loosely pressed against his. It was a miracle that he had never lost control and sank his teeth into her. He ran his fingers down her spine, finding that her dress was adorned with some sort of ridged pattern. Kvornan pulled away from her before she noticed his immediate and unanticipated arousal.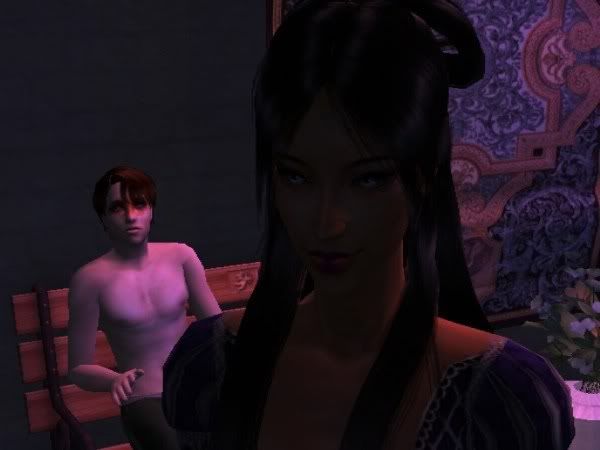 Tara moved over to the windows and peered outward at the early morning. Kvornan took a seat on the bench behind her and stared at the floor, trying to will away his erection.

"You've been to see Elise, haven't you?" Kvornan was startled by her question.

"What makes you say that?"

"The fasting. I couldn't think of another sin that would warrant it." Kvornan leaned forward.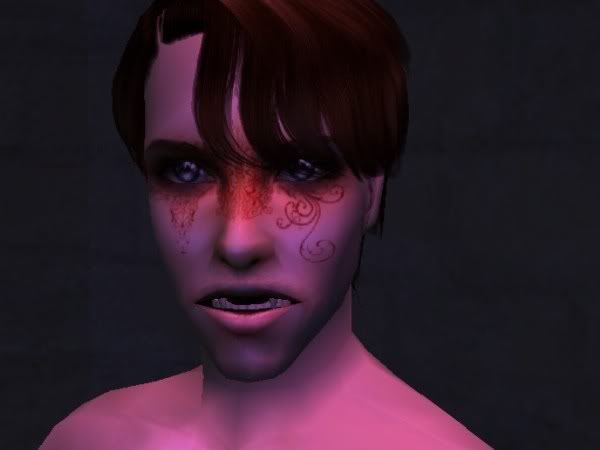 "If you must know, then yes. I spoke with her. I've been channeling her while she sleeps. But I probably won't do it again. She has a tendency to want to recreate the House in her dreams and it attracts certain entities that I'd rather not encounter."

"What you did is forbidden, Kvornan."

"And well I know it but I intend to be a part of her life." Tara folded her arms over her chest and shook her head. She was vaguely angry. He watched her shift her center of gravity from one foot to the next. Her long velvet gown floated away from her body, suggesting an enticingly round set of hips. Kvornan rose from his chair. Screw it.
"I know that you mean well by her," she said quietly.

"Ultimately, I'm going to have to disagree with you, Princess. I do not mean well. My motives are purely selfish. I'm finding it increasingly difficult to live without the person that I live for."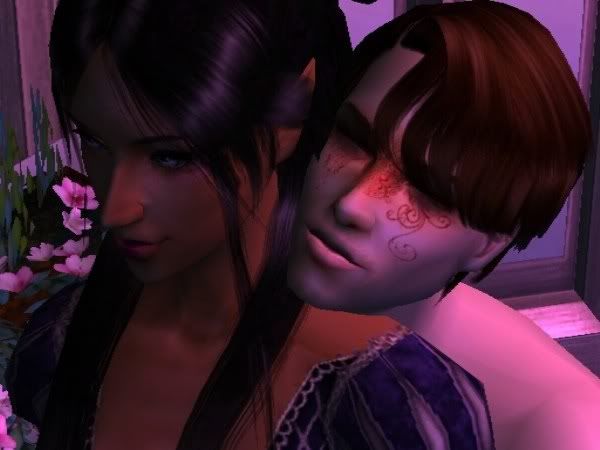 Kvornan inched closer to her, losing himself her in scent. God but she was intoxicating.

"Moreover," he said. "It is entirely unfair that any and every manner of wretch is free to encounter her while I am expected to keep a discreet distance." He wrapped his arms around her waist and rested his chin on her shoulder. "This won't be the end of the world," he promised.

"You can't really guarantee that," she countered. "You're a danger to her." Kvornan was stung.

"You don't really believe that, do you?" Tara shrugged.

"I believe you love her too much to let her go when the time comes."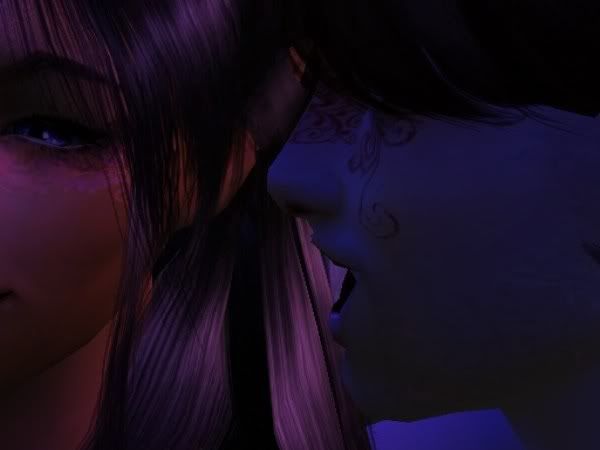 Kvornan sighed. He no longer wished to discuss their vague and ominous future.

"Let's talk about something else," he suggested.

"Like what?" Kvornan grinned and took her hands. He delivered a strong jolt of energy through her body, mingling his light with hers. Tara's cheeks grew hot from bashfulness.

"You aren't terribly hungry at the moment, are you," he asked. "Because I imagine that the two of us will be heavily occupied through breakfast and sound asleep through lunch."