Thurs, November 26, 2074 9:49 pm: 88 Wilkins Ave.- Camden, Pleasantview
She was shaking uncontrollably. At the base of the steps, Ermengarde tried to grab the railing but she kept missing it. Every time her hand went up, it appeared to slice through the bar. Her vision was stretching, stretching. The wooden bannister magnified one thousand fold. She could see each droplet of water, each peeling flake of lacquer expanding in the dark. Her stomach acids fluctuated with the slowly tilting world.

Ermengarde inched her feet forward along the concrete walkway, hoping to come into contact with the bottom step. The hem of her nightgown was clinging to her legs, all soaked with mud. When her feet hit the stairs, she discovered that her body was almost too leaden to lift. She wanted to cry. She wanted to shout for Elise but the sound that issued from her mouth was no louder than the rain that pelted her face.
A flash of lightning bathed the ground in cold, white light. She had to get inside. She had to. Ermengarde furrowed her brow, gritted her chattering teeth and climbed.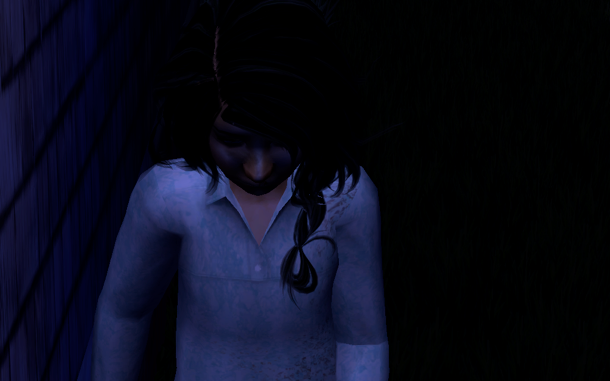 She worked slowly without the aid of the railing and seemingly without the aid of gravity. Her desperation neared the pitch of an animal trying to outrun a brush fire. The wind blew and Ermengarde smelled something that reminded her vaguely of boiled eggs. After a moment and a few arduous steps, she realized that she was the source of the odor. She had been somewhere farther than her front lawn. Somewhere putrid. A cough lodged in her throat and she gagged.

At the top of the steps, she hit the door with her palms until they stung. A new dread was trickling over her. Vince was going to be mad. She was going to be in trouble and she couldn't even speak to defend herself. She didn't know how she had gotten outside. She didn't know where she had been, what happened to her nightgown or why she stank. It wasn't her fault.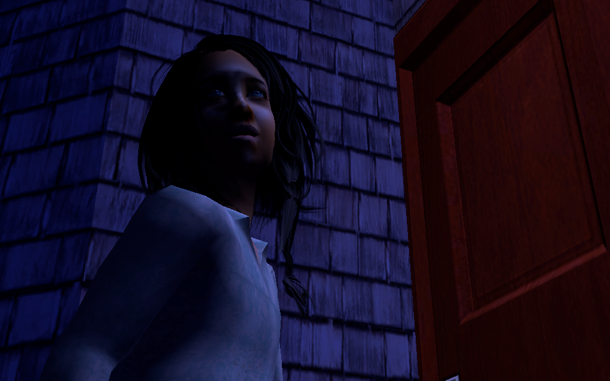 She glanced down at her feet and almost lost her balance. Distant things looked near. Near things looked even nearer. The threads in her nightgown were brittle hairs looped over and under into corners of visible negative space. The skin on the back of her hand was cracked like an arid wasteland.

Ermengarde jerked her head suddenly upwards, startled by a far-off industrial clanking. It was steady like a miner's pick hitting the underbelly of a mountain. She throttled the door again with her palms, more rapidly this time. The clanking sound was growing louder. Her head was singing with it.
Ermengarde froze as the door creaked open. Vince's gaze landed well above her height and traveled gradually downwards until their eyes locked. His mouth fell ajar.

"Elise!" He must have shouted but his voice was muffled and distorted like a man submerged in water. There was some shuffling of feet inside the house. And still the clanking persisted.
"Oh my God." Elise shoved Vince out of the way and pulled Ermengarde into the house by her shoulders. When she inhaled, Ermengarde's breath rattled in her lungs. She wanted to cough up the congestion but she couldn't. She could barely even think. "Ermie? Ermie are you ok? Vince, her nose is bleeding."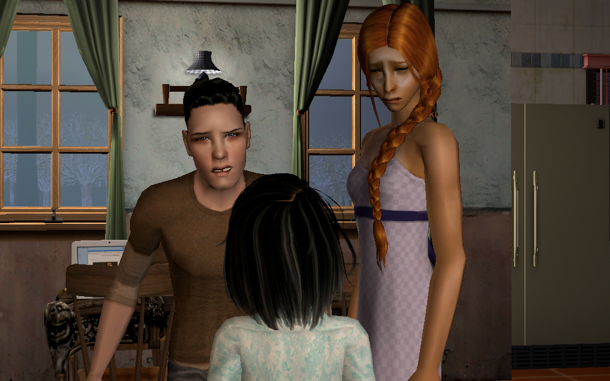 Elise let go of her shoulders, standing gracefully erect and quivering like a frightened doe. Vince bent down to pat Ermengarde's cheeks.

"What happened? Are you ok? Where have you been? Talk to us, Ermie."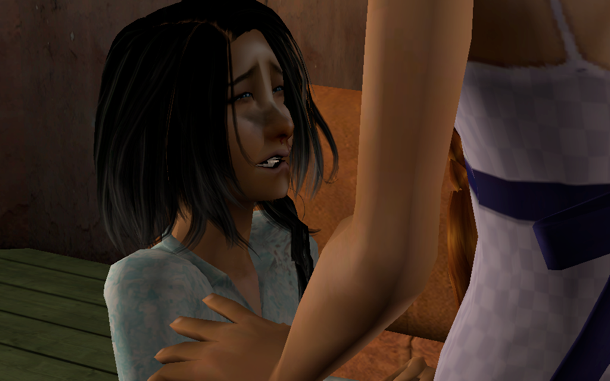 The noise was at the door now. It clamored for entrance. Ermengarde shuddered violently. Her skin prickled as though she were populated by a colony of ants. The sound threatened to punch straight through the wall. Couldn't they hear it? The space between Elise and Vince was artificially widening, pulling taut enough to snap.

"Ermengarde? Ermengarde? Vince, should we call 911?" Ermengarde swallowed hard and then managed to produce a small rasp.

"Shh! Listen. I think she's trying to say something."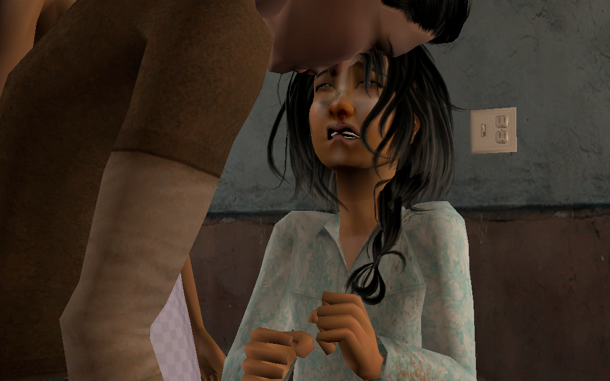 Vince bent his head down next to hers. The floor was vibrating now with each successive clank.

"What is it Ermie?" Ermengarde lifted her chin. Her teeth were still chattering from the cold. The whisper that made its way past her lips splintered and broke.

"They are coming," she said.