Fri, November 27, 2074 12:46 am: 88 Wilkins Ave.- Camden, Pleasantview
The old radiator by Elise's bed rattled and hissed, expanding the silence with steam. It was so strange the way ordinary spaces that she never considered under ordinary circumstances came to life in moments of extraordinary gravity. Kvornan folded the sheets around Ermengarde's tiny frame. His thoughts tumbled one over the other in a confusion of languages that Elise did not speak. She had never felt more thoroughly isolated than she did then.

Elise tipped her body backwards, trying to rest her head against the wall but it was too far to reach. Kvornan feigned a light cough. This was their speechless dialogue. I want to rest but I can't. Elise's chest rose and fell with the weight of her own mortality. She would give it to him if she could.
Kvornan exhaled deeply as Ermengarde flipped onto her side. Though her eyes had been open for much of the night, she remained unresponsive from the moment she'd spoken onwards. After Elise dressed her, Kvornan somehow managed to put her to sleep. It was, he said, all that they could do.

Elise tapped Kvornan's knee with the hard sole of her sandal. He jerked his head upwards, startled. In an instant, she saw the anxiety that he had been trying to shield from her throughout the night. And it was discouraging.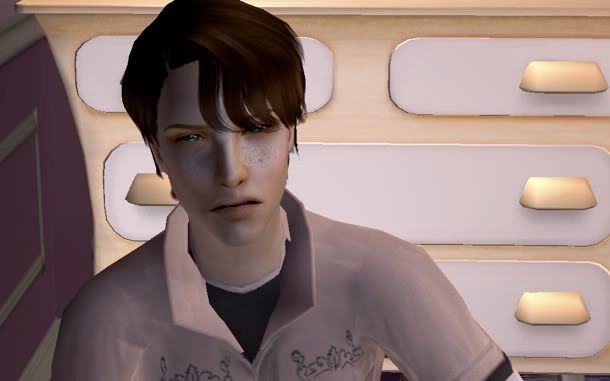 "You aren't inspiring very much confidence in me over there." Her voice had taken on the vaporous quality of steam. Kvornan knitted his brow.

"Maybe I'm not feeling terribly confident." His tone fell flat with the weight of its honesty. Elise must have recoiled then or given him some sign that only he could read because he quickly amended his statement with, "I'm sorry. I shouldn't have said that."
Water dripped from the bathroom faucet at uneven intervals. Ermengarde's body slept as sweetly now as it did when hers was the only consciousness commanding it. And there was something essentially chilling about that.

"What's happening to her," Elise whispered. Kvornan drummed his fingers on his knee thoughtfully.

"She has barricaded herself in her own subconscious. It's the smartest thing to do when the psyche is invaded. Let's just pray that whatever is occupying her gets bored and leaves." Elise looked downward, visually skipping across the checkered pattern on her skirt. She would not be content to just sit and wait. The waiting was enough to drive her mad.

"What if- What if I went in there? Could you teach me to do that? Like you did with my dreams," she proposed. Kvornan grunted from the back of his throat.
"What happened with your dreams was different. I opened up to draw you in. Your own psyche is impenetrable, for which I am very thankful," Kvornan intoned. Elise's gaze drifted half-heartedly over the room. His emphasis on the last two words made her think he meant to address some invisible presence. She shook her head to free herself from the thought.

"But you do know how to go into other people's psyches?"

"Theoretically."

"So teach me." Kvornan parted his lips to respond, perhaps to agree but then resolutely shook his head.

"It's a bad idea. You'd be putting yourself in danger." Elise clenched her hands into fists. Annoyance and desperation were bubbling up inside of her. They were wasting time.

"She's my sister!" Her shout was high-pitched and infantile. If Kvornan had been anyone else, she might have felt foolish. As it was, she pursed her lips and held her ground. His eyes gleamed in warning.

"Nothing is worth the risk of losing you, mvalit," he snapped.

"That's..." Selfish was not the word. And in the absence of that word, Elise was not certain of what she meant to say. She swallowed hard. Kvornan squeezed his eyes shut, struggling to clear his mind. He reached forward and grabbed Elise's hand to steady himself. For a time, all three of them breathed at the same pace.
"We can't just sit here and let this happen," Elise murmured.

"We don't have many other options."

"But if there are other options, we need to consider them."

"You think I haven't considered them?" His cheeks flushed hotly. He was becoming increasingly frustrated and Elise's tenacity only served to provoke him. Still, she could not let matters lie.

"But what if-"

"Elise, please just don't argue with me on this!" Elise gasped and withdrew her hand.
She was now the very definite target of his anger and she knew why. She was thinking about entering Ermengarde's psyche without his permission or assistance. Kvornan pushed his chair closer to her until the sides of their legs were touching. In the midst of her fear for her sister, Elise felt her stomach jump as it did both in sadness and in pleasure. She wanted to pull him from his chair and press her body to his. She wanted to hold him until her arms gave out-- Until the fibers of their skin and clothing fused-- Until they were one highly conflicted being.

"I would do everything in my power to help her short of putting you in harm's way. All I need for you to do is to stay calm and keep me company while I regulate her sleep. Ok?" Kvornan said. Elise nodded, her throat constricting. By stay calm, he had meant shut-up but Elise was too tired to fight in any case.

"Ok," she murmured.

"Ok."
The room fell into silence; Elise watching Kvornan, Kvornan watching Ermengarde. Elise wanted to comfort him but she didn't dare. He had it in him to break her heart with a glance.

Ermengarde turned over onto her back, her arms spread in welcome or surrender. Elise placed a hand on Ermengarde's foot and gently squeezed. Everyone she loved most was only ever passing through.

"Is she going to die," Elise asked softly. Kvornan did not flinch.

"Not before her time."

"Is now her time?"

"No." There was a finality and a certainty to it that made Elise wonder whether he knew when her time would be.
"I am sorry that I yelled at you," he said. His face was contorted in something like bitterness and Elise had the strangest sensation that he blamed himself for this. He closed his eyes and pursed his lips, still protectively shutting her out.

"It's alright," she breathed. She wanted it to be more than an acceptance of his apology. She wanted it to be reassurance. She wanted it to be Ermengarde awake and alive and whole.
Kvornan folded his arms on the edge of the bed and lowered his head between them. Elise was on her feet, as if by reflex. For an instant, she stood not knowing what to do. Then tentatively, she wrapped her arms around his shaking shoulders. Pressing her cheek on the back of his neck, she stroked his side, comfortingly. Only then did his thoughts roll forth in a tidal volley of ghosts.
December 3, 1996 10:13 pm: The House of Fallen Trees- Gothier, Pleasantview (Seventy-Seven Years earlier)
I'd been awake for days and I was starting to feel it. My muscles bowed into the shape of my chair, arching my body ever forward, towards the shell that nested in Fricorith's bed.
There was nothing for me to do but I refused to concede to my own helplessness. I was like a butterfly flapping its wings against the lid of a mason jar. Maybe you're too young to understand.
My son or some dried-up effigy of my son twisted in the many layers of quilting that I had piled on top of him three days prior. I would have taken his place if I could. He wasn't just in danger of dying, Elise. He was on the verge of effacement. He was staring oblivion in the teeth.
The doorknob turned and I felt a cool rush of air. My wife's niece, Gvaudoin, slipped into the room. I did not turn or acknowledge her in any way. I barely knew that I was in the room, let alone her.
She stopped at the foot of the bed. She said something like, "he looks peaceful" and I begged her to say anything but that. She told me that she was worried about me and I don't know what I responded with. Maybe I didn't say anything at all.
The fire was dying at her back. I wondered if Fricorith was warm enough. It was the only variable that I could control. Gvaudoin tried to convince me to eat something. She offered to bring it up to me, whatever it was. I don't remember. Soup, maybe. I told her no. I wanted her to leave and not just because of my emotional state. In my culture, it isn't appropriate for a man and a woman to be alone together in a room like that-- At night and with the door closed. It occurred to me that maybe she counted Fricorith amongst us. And the fact that I did not have the same inclination drove me deeper into despair.
I got up to stir the coals. She seemed to think that I was coming for her, subtly blocking my path. Our eyes met and I became very acutely aware of the fact that I wasn't wearing a jacket. My wife was a few doors away, no doubt still awake and listening. I had made her leave Fricorith's room the night before because her distress was making me agitated. I wished that Gvaudoin would go to her. I wished that Gvaudoin would look after her and feed her but she didn't. She put her hands on my chest and I sank into them.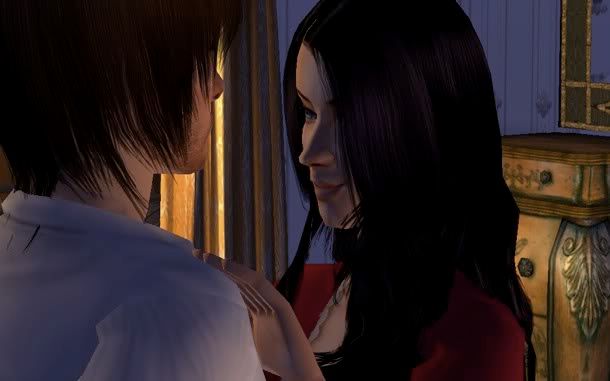 She was so beautiful. Divinely so. Sometimes she would walk by and God help me, my palms would begin to sweat. I didn't move while she smoothed my collar. I didn't listen while she spoke. I now had guilt to add to my ever mounting list of unpleasant emotions. But I couldn't pull away.
I collapsed instead. It seemed to catch her off guard but she held me. She called me by my name which was something that she never did. I was only ever Sheut or Lord or Mahadeva. But in my weakness, I was human.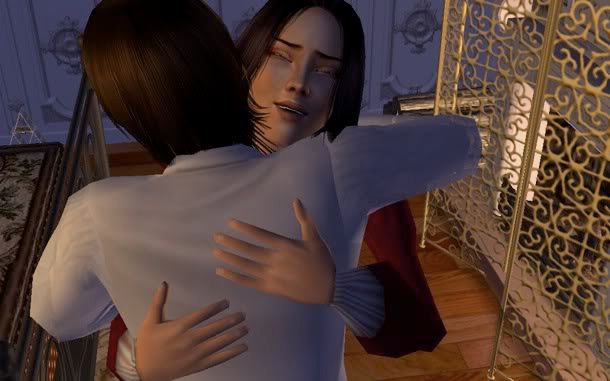 Without thinking, I returned her embrace. I ran my fingers through her hair, kissing her cheek, her jaw, her neck. I never sought comfort from anyone, not even as a child. If I fell, I dressed my own scrapes. If something frightened me, I confronted it. And now?
She was effortlessly carrying the whole of my weight.
I don't make excuses for anything that I've done and this least of all. I lost everything when they died. You will never go through what I did. I swear it.