WARNING: Nudity. Not safe for work! Mmm k, bye.
Mon November 30, 2074 10:15 am- The Orinda Suites: Leinster, Veronaville
There was a knock at the door. Alexei shielded his eyes from the sun with the crook of his arm and bemoaned the nuisance of morning. Light seeped through his eyelids, illuminating the vascular beds therein. For a time, his world was scarlet and empty, haloed with gold.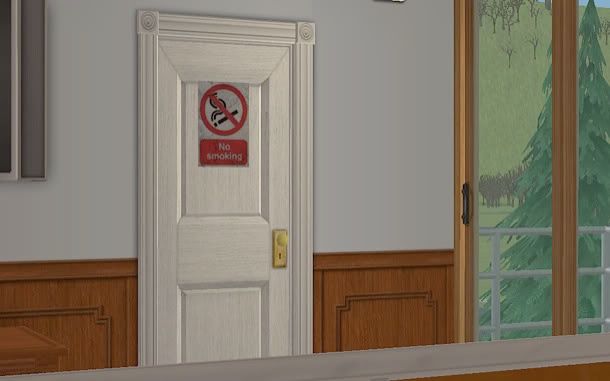 "Housekeeping!" Alexei propped himself up onto his elbows. The slight change in elevation sent his head reeling. Outside the door, he could hear the maid fidgeting with her pockets. Faced with his own helplessness against the maid's impending entry, Alexei was struck with a sudden nostalgia for traditional locks and keys. Those he could manipulate from a distance, threading his consciousness through the cylinder, tripping the latch by force of will. But much to Alexei's increasing dismay, he knew nothing of key cards and magnetic strips. Technology was finally beginning to out-pace his learning curve. The maid passed her card through the reader and began punching a code into the number pad.
"Open that door and I will shove those fresh towels so far up your ass that your grandchildren will choke on the lint!" he shouted. His Ashkay was rough, degraded from lack of use but he seemed to have gotten his point across. There was no release of the mechanism, no turn of the doorknob.

"Sorry!" she replied in English.
Alexei settled back onto the pillow. His sallow hair was slick with sweat and from the scent of it, not only his own. He didn't remember fucking anyone the night before nor any activity beyond his sunset stroll along the wharf, pitching the bread from his corn dog into the sea. But by the shrill ringing in his ears, he knew that he had been with more than an ordinary human that night and engaged in more than sex.

Alexei slung his legs over the edge of the bed. Standing, he rocked on the balls of his feet and stretched. When he was a boy, he imagined a past life as a heron and sometimes, he still elongated his limbs until his body took on the linear composition of a dart. He crouched down to the floor, lying on his back.
His hands beneath his head, he curled his torso to meet his legs. The first few crunches came with a fluid ease that slowed with each subsequent collapse of his stomach. When he inhaled, every electronic device in the room soundlessly flickered to life before extinguishing again. Alexei paused, flattening himself against the carpet. He couldn't remember the last time he had lost control over the electric impulses in his field of energy. In fact, he was certain that it had never happened before. This was not a good sign. Still, he cupped the back of his head with his hands and reprised his crunches.
Alexei's abilities were not ordinarily of the sort that ran over, seeping undirected into the physical world. The power that he had from Kvornan stirred within everything tangible and intangible. If Alexei's magic was fluctuating then it was no longer of Kvornan. Not mostly. Alexei was more Fae than anything else by now.
But that was just postulation. Kvornan would probably tell him that his magic wasn't the problem, only the brain that sent signals to his energy. It would be a joke but maybe there was some truth to it. The amount of time that he spent on imaginary conversations with Kvornan alone proved the point.
Alexei relaxed, breathing heavily through his nose. His eyes were irritated but he didn't dare rub them. Drunk on someone else's life force, he had forgotten to take out his contact lenses the night before. He pushed himself to his feet and sauntered over to the window.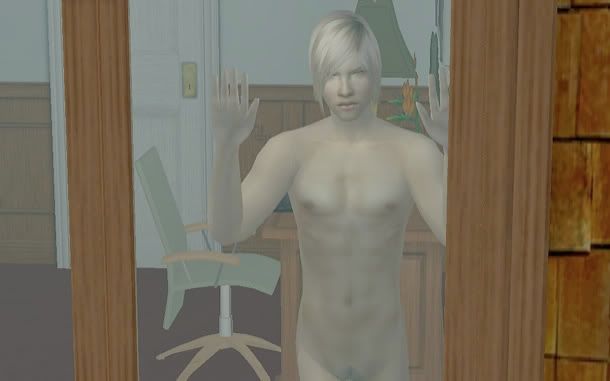 The glass stung his palms with cold. Wind whipped through the conifers on the hillside, bowing their spines just far enough for Alexei to catch sight of the sun.

Two weeks he'd spent in Veronaville. If he pieced together the disparate shards of his memory, the assemblage might have counted for five days worth of events. He really needed to put a bit of distance between himself and the people of this region. He was fostering a nasty habit with these Faes. The more he drank, the less he remembered.

Tonight. He would fly home tonight.
March 12, 2062 4:12 am- Arbormoor Forest, Arbormoor, Pleasantview (Twelve Years earlier)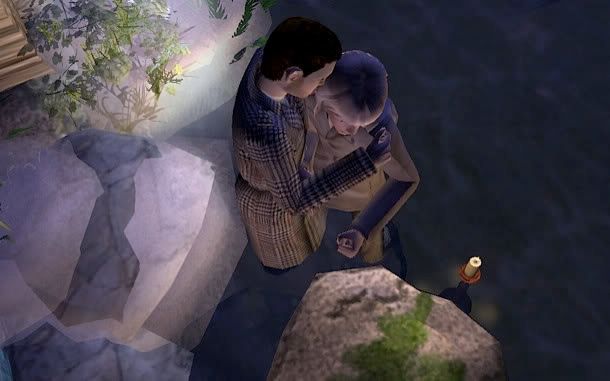 "Enough." Alexei shoved Kvornan slowly but firmly away, wincing in pain as Kvornan's teeth withdrew from his throat. Kvornan pulled Alexei's collar from the wound to keep his skin from grafting to the fabric while it healed. The water that sloshed about their ankles had either taken on a syrup-like viscosity or time was staggering. Only then did it occur to Alexei that he could no longer sense the cold or the wet or even the ground under his feet. Below the knees, there was nothing.

"We're not done here." Kvornan's tone was soft and consolatory. Alexei flung him away.

"The hell we're not. I can't feel my legs," he growled.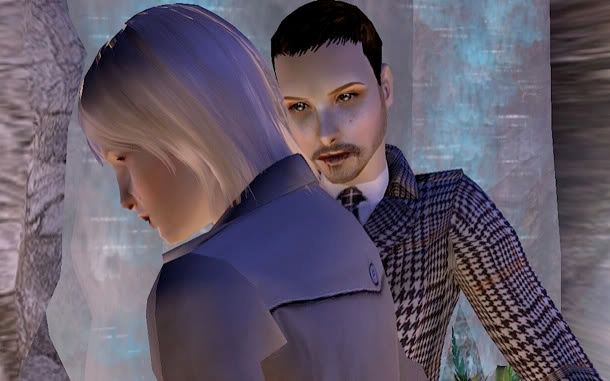 The world flashed by in monochrome, alternately black and red. Alexei tugged on his tie by the knot. Kvornan reached for his hand and Alexei jerked away, careful not to tip the precarious balance of his upright body.

"Your neck," Kvornan cautioned.

"It isn't so deep." As he said it, he foresaw himself peeling off his collar in the morning, skin and all. If it were any other injury inflicted by anyone else under any other circumstances, Alexei would not have been squeamish about re-opening the gash. It would not have even been a thought. But as it stood, the image both thrilled and revolted him.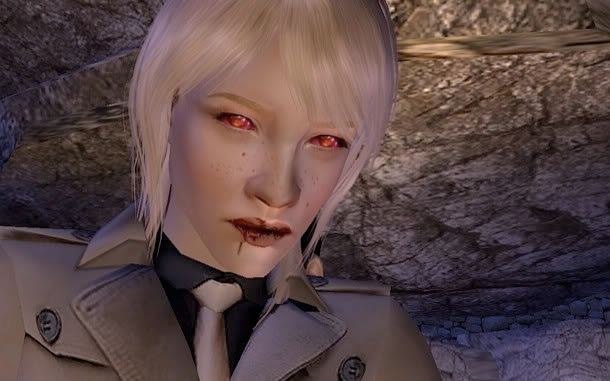 His heartbeat was erratic. His stomach swelled and contracted. He did not know what the physiological effects signified, why he seemed to drift rather than stand.

Diving bell spiders fashioned jewel-like chambers of air on the stem of a reed. If a spider could evolve to breathe underwater then maybe necessity could bolster Alexei's feeble, human constitution to bear Kvornan.

Kvornan stepped in front of Alexei and forced him to meet his eyes.
Tiny flecks of light shimmered where Kvornan's pupils ought to have been. Alexei plotted the points in his mind, committing them to memory. In antiquity, man had seen gods in the constellations. Tonight, Alexei saw constellations in a god.

"The solstice ends at sunrise. We have to finish," Kvornan whispered.

"No," Alexei said simply. Kvornan grabbed Alexei at the waist, perhaps to help support his weight, perhaps to keep him from trying to run.

"You might not survive if we stop now."

"Well here's hoping."

"This is serious, Alec."

"I'm being serious."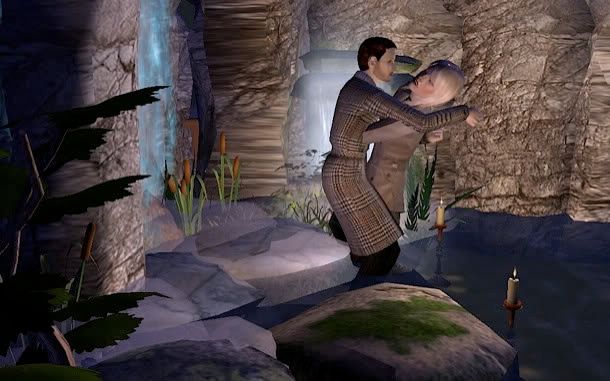 For a time, they merely stared at one another, each silently prodding the other one to break. Opting to expedite matters, Kvornan swept Alexei's legs out from under him with one fell kick. When Alexei's knees buckled, Kvornan caught him, forcing his head back.

Perhaps he was only addled but Alexei could have sworn that he felt the full force of Kvornan's intent as though his thoughts were Alexei's own. An agonizing pressure mounted at his temples. Alexei was not built to accommodate the divinity that ripped through his energy, moving like a school of free radicals striking the thin layer where Alexei ended and everything else began. His soul chimed like a vessel of brass.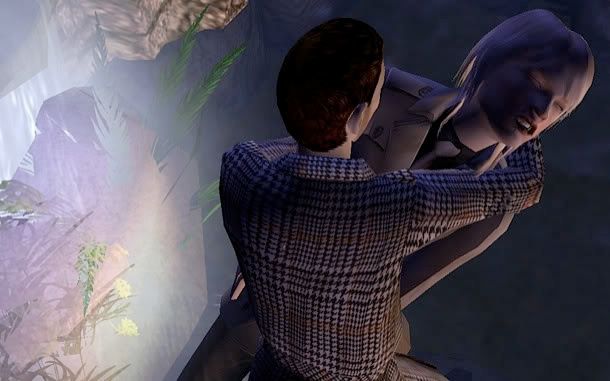 Alexei grimaced, struggling in Kvornan's arms to no effect. He laughed dryly at the futility of fighting and at Kvornan's apparent determination to hurt him.

"I thought this was a democracy," Alexei rasped.

"You are not in a position to be making any life-altering decisions right now."

"Oh fuck you. You don't know what this feels like."
Kvornan placed a hand over Alexei's eyes and his body went limp. Alexei's chest warmed pleasantly. His mind eased nearly to the point of sleep. He felt Kvornan's lips against his throat but it all seemed so far away.

"What are you doing?" Alexei's voice was groggy with weariness. He could hear it as though it were coming from somewhere outside of the cave.

"We have to finish the cycle. Do you think you can do that?" Kvornan lifted his hand from Alexei's eyes. The sudden calm took root and blossomed independent of Kvornan's touch. It scattered new growth over the belly of Alexei's scorched landscape. When Alexei opened his eyes, he found Kvornan bearing down on him, black and red and unspeakably beautiful.

He took hold of the back of Kvornan's neck and stood on unsteady legs. All perception of urgency lost, Alexei discovered that he actually wanted Kvornan. His was the scent of summer rain, deep earth and dawn. It was all that Alexei needed-- His inlet to new life. Alexei nodded, pulling Kvornan closer. He hesitated before planting his fangs into Kvornan's throat but afterwards, there was only relief.