Tues, November 24, 2074 5:17 pm: 124 Valleymoor Rd.- Arbormoor, Pleasantview
Macaulay wracked Lavinia's body with his eyes, sending an altogether unpleasant sensation up her spine. Sometimes, in certain lights and from certain angles, Macaulay was his father. The resemblance coursed through him much more profoundly than graphite-black hair and delicate hands. It resided in the deepest caverns of his intellect, bled from his very core.

Lavinia had not known what to expect when she let him into her house that afternoon, as silent as a monolith. They had barely spoken in weeks. On the rare occasions when they did speak, Macaulay half-heartedly pretended that everything was ok and Lavinia pretended right along with him. She could not have lived with herself any other way.
Hunter clamored noisily at their feet, unsuccessfully force-feeding a round peg into a triangular hole. No amount of pressure, no pitch of frustration would make it go down. Lavinia flitted her fingers through the hair above her ear, pushing back a non-existent stray lock. She wanted to tell Macaulay that she was sorry. She wanted to say that she had never intended to abandon him the way that she had. But the message that passed from her thoughts to her mouth was lost along the way.

"Cully," she said. "Will you please take your dirty feet off of my furniture?"
His expression softened to what Lavinia's well-trained eyes recognized as near amusement. She sensed an imminent encounter with his wizened sarcasm.

"It's a footrest, Vin. Its intended purpose is the resting of feet, regardless of relative dirtiness," he said. Lavinia shrugged.

"My house, my rules."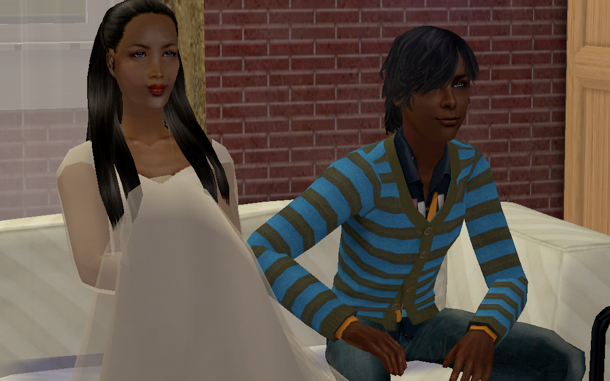 Leaning away from the couch, Macaulay kicked the footrest to the side. It glided over the floor on felt padded feet and Hunter watched it go. He sucked the tips of his fingers and returned to his futile game.

"Happy," Macaulay asked pointedly. Lavinia did not know how to respond.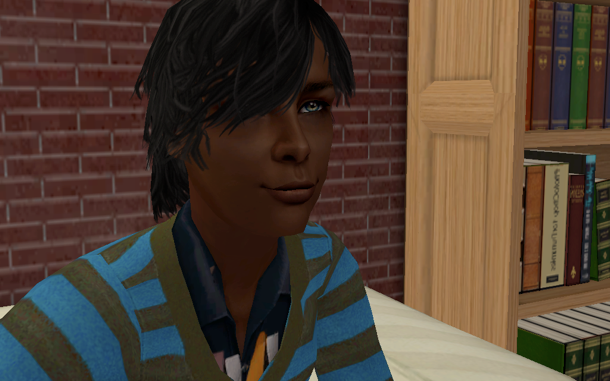 Macaulay looked towards Hunter and grinned but Lavinia had the impression that his thoughts were elsewhere. Her cheeks flushed. He didn't care enough about their situation to stay in the moment. He was a pebble floating downstream.

Lavinia gathered her knees upwards and placing her feet on the couch, rearranged her body until her head was resting in his lap. It was a terrible ploy for attention but subtlety had never been one of her strong suits. Startled, Macaulay's head jerked in her direction. He laughed dryly.
"I see your game. Make me move so that you can get more comfortable. That's low enough to be unworthy of you, Vin."

"Yeah right. You know I never plan anything in advance." With that, Hunter mewed as though someone had called his name. Macaulay brushed his fingers against the necklace that rested against her chest.

"This is nice," he said absently. Lavinia bit back the urge to tell him that his father had given it to her. As Macaulay pulled his right leg onto the couch behind her, Lavinia was reminded of her grandmother's locket, which she could not remember seeing since before the move.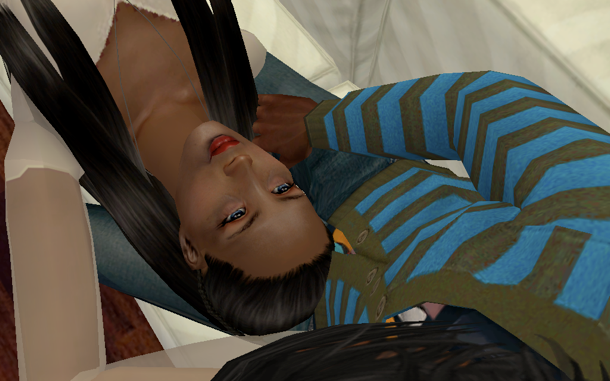 "I'm missing a necklace. It's a gold locket. Heart-shaped. You know the one."

"Yes, I do."

"Have you seen it?"

"Not recently."

"But you'll keep a look out?"

"Absolutely."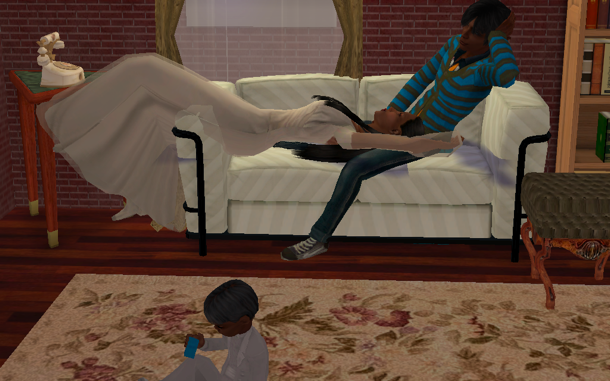 Macaulay ran his fingers through the loose ends of her hair. His coarse wool sweater grazed the side of her cheek. She reached behind her head and squeezed his side, taking solace in the fact that, if nothing else, Jorge was probably feeding him well.

"You're free to come stay here whenever you want for as long as you want," Lavinia offered. Sniffing, Macaulay wiped his nose with the back of his hand.

"No thanks. I'm fine where I am," he said huskily. Lavinia thought for the briefest of moments that she had never known a child to age as quickly as he did. He was a pebble polished smooth by the current.

"Do you need a tissue?"

"I'm good, thanks. I'm just allergic to you is all." Lavinia punched him in the ribs as best she could while lying prone. Macaulay laughed in the careless way that Hunter sometimes did and that Jorge never did.
"But seriously," she said. "My home is yours no matter how old you get, no matter how filthy your shoes. You're my boy always, no matter what." Macaulay stopped stroking her hair. Lavinia's skin prickled as though the air was charged.

"I'm still pissed off at you, you know. I mean, I'll get over it. But I haven't yet," he said shakily. Lavinia buried the side of her face in his leg. She caught the warm scent of his lotion. Her fingernails fiddled with the inside seam of his jeans.

"You understand though, don't you? I couldn't raise Hunter in that kind of environment." It was not a plea for forgiveness but it should have been.

"I know," Macaulay sighed.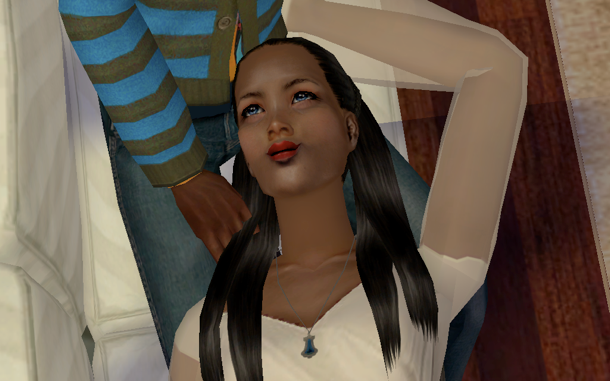 Discomfort crept along the muscles in Lavinia's shoulders. She arched her back to prolong the moment when she would finally need to sit up, knowing that the longer she remained in his lap, the more weapons he would be forced to set aside.

"So where have you been all of this time? I haven't seen you in ages," Lavinia asked. Macaulay bit the tip of his forefinger.

"Oh. Um, just hanging out with a friend, I guess."

"A girlfriend," Lavinia pried, her eyes glittering wickedly.

"No. He's a boy." Lavinia smiled up at him, suddenly and unexpectedly proud.

"Well good for you! I'm glad to see that you're finally coming out of your social shell."

"It's just one friend, Vin."

"But still, it's a start! And I bet you've met lots of other kids your age through him."

"Yeah, I guess I have."

Lavinia pushed herself up, no longer able to continue lying with his leg jammed against her spine. As she regained her seat, Macaulay grabbed her just above the hips and pulled her backwards. Lavinia was too shocked to struggle. Once she was firmly sitting on his lap, he released her waist and placed his chin on her shoulder. Jorge's chest was pressed against her back. Jorge's hand brushed her thigh. Jorge's breath warmed her cheek. Once formed, the thought could not be overwritten.

Lavinia shivered as the chill of self-loathing danced through her extremities. Macaulay was a pebble rescued from the stream, coveted for its resemblance to the mountain from which it came and pocketed for further inspection. Macaulay cleared his throat.

"Um, Vin? Are you ok?" She was squeezing his knee hard enough to drain the blood from her knuckles. She let go, fingers spread.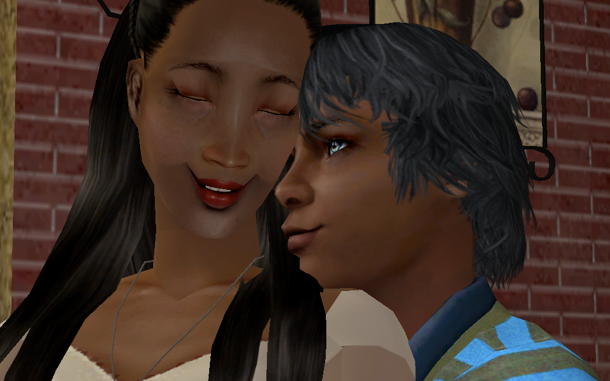 "Yeah, of course," she said. "So um, about this friend of yours- You should bring him over for dinner one night. That would be fun. I could make a lasagna. He wouldn't think that was weird, would he? You inviting him over to your governess's house for dinner?" Macaulay turned his head and his lips brushed her throat. Lavinia grabbed the couch cushion as metallic sparks shot from her stomach to her throat. She wanted to jump from the chair but she was too afraid of being obvious. This was not normal. Macaulay brought his hand up to his face and Lavinia felt a few strands of her hair pulling from her scalp. Her hair had found its way into his mouth. That was all. "Watch it. That kinda hurts," she cautioned.

"Sorry. But yeah, I'm sure he wouldn't think it was weird. I've told him a lot about you. He's probably wondering why he's never met you." Macaulay leaned back on his elbows, clearly oblivious to what was going on in Lavinia's mind. And she was grateful.

"Good. I can't wait to meet him." Lavinia stood, scooping Hunter from the floor. He had fallen asleep in his own drool, smirking like a Cheshire Cat. He was mocking her. Lavinia fancied that his innate and devilish wisdom made him more than the sum of his parts.