Weds, November 18, 2074 1:10 am: Dewilliker Academy- Rawling Hills, Pleasantview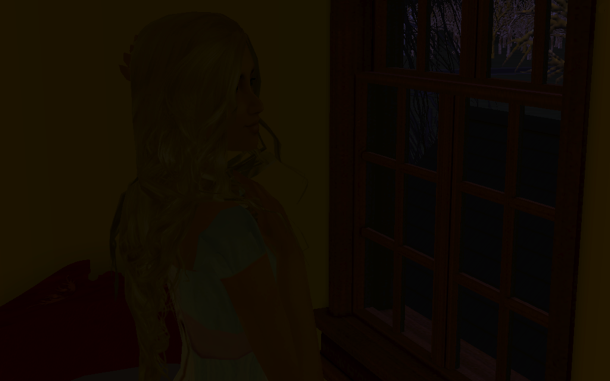 Sabina would know that voice anywhere, no matter how soundly she slept. Throwing off the covers, she sat bolt upright in bed. A slight chill was creeping through the windowpanes and as she pressed her face against the glass to see into the yard, her breath painted a thick fog across the landscape. She wiped the window clean with her wrist.
Troy was ducking out of the back door, pulling his jacket up around his neck against the cold. Sabina tapped on the window with her fingernails, causing him to stop in his tracks. He cautiously tilted his head upwards and gave her an exaggerated shrug, hoping to make the gesture large enough for her to see. Sabina pressed her palm against the freezing glass and frowning pitifully, she mouthed the word please.

Troy dropped his arms, appearing to consider. He then held up his left hand, fingers spread. Sabina was granted five minutes. She smiled brightly and pointed downwards, indicating that he should stay put. She climbed out of bed, threw on a pair of boots and took off down the back stairwell.
In the backyard, Troy had not moved an inch. He watched her jump down from the steps with his head cocked curiously to the side and his eyes wearily downcast. Sabina had the sudden urge to creep back into the house, leaving Troy to whatever morose thoughts were floating around in his inscrutable brain. But her legs wouldn't allow it. They pulled her awkwardly forward, her feet sliding in her rubber boots. When his gaze met her face, his expression did not soften. His eyes were the funereal shade of black that was more familiar to Sabina than the dark blue that they assumed in the daylight. But this frigid pensiveness of his was altogether new. And it was unsettling.

"How is he," she blurted. Troy smiled weakly, unconvincingly.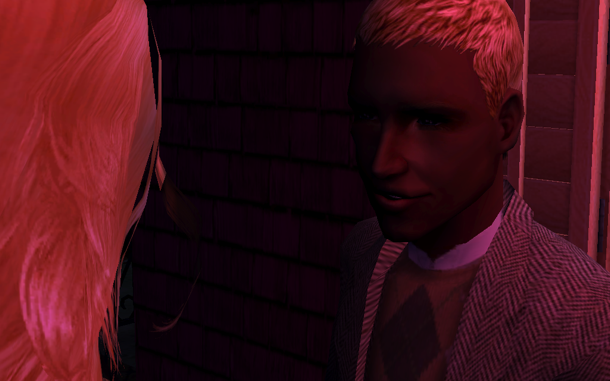 "He's fine. Surgery went well. He'll be out of the hospital in just a few days." Sabina relaxed a little, pleased to have this news of Roan. A brief silence fell and Troy's brow furrowed. Clearly, he had no idea of what she wanted from him. She wasn't quite sure herself.

"So what brings you out here," she asked.

"Shane wanted to come back for the night and I didn't feel like arguing so I brought him," he said. He then reached forward and took a handful of her hair.
"What in the name of all that is flaxen have you done to your head?" Sabina giggled though part of her felt the desire to cry. Her hair! For a moment, she had mercifully almost forgotten about it.

"I dyed it."

"I can see that."

"It was impulsive."

"I bet it was." Troy stroked her cheek with the backs of his fingers, allowing her hair to slip from his grasp. If he hated it as much as she did, then he was too tactful to say. But Sabina didn't care about her hair anymore. To hell with it. Troy was touching her. His solemnity had melted away though he still seemed somehow crestfallen. Sabina knew better than to ask him what was wrong. If he wanted her to know, he would tell her. She wrapped her arms around him and squeezed.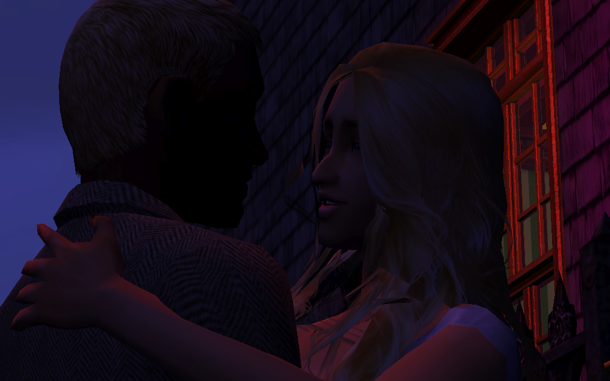 "I missed you," she said wistfully. He sighed through his nose.

"I shouldn't be here. I never should have been here. This isn't right." Troy's face was drawing nearer to hers with every word until their lips were brushing. It was a vaguely ticklish sensation. Sabina's eyelids fluttered shut, her adrenaline racing. "My wife needs me," he murmured. And there it was, all of his misery laid bare before her. His wife needed him. Sabina was jealous of Siren for many reasons but for this above all else- She was and always would be the center of his universe. Sabina did not want to say the obvious thing; that she needed him too. So she resolved to say nothing at all.
He froze at first, as rigid as a board. Sabina took his bottom lip between hers, never having kissed a man before but understanding the general mechanics of the thing. Groaning, he held her tightly and nudged her mouth open with his tongue. He tasted like espresso. When she tried to release him, he lowered his hands to the small of her back, forcefully tugging her hips towards him. She gasped involuntarily, feeling his erection pressed against her thigh. Her pulse quickened as she fantasized for about what it might be like to have him right there on the lawn. He pulled his head away from her unexpectedly.
"You're shivering," he said, running his hands up and down her arms to warm them. She was shivering but it had nothing to do with the cold. She pressed her fingers to his lips.

"Don't worry about me. I'm very, very ok right now." The smile that he graced her with then was genuine and ecstatic.

"You are easily the best thing that has happened to me all day," he said.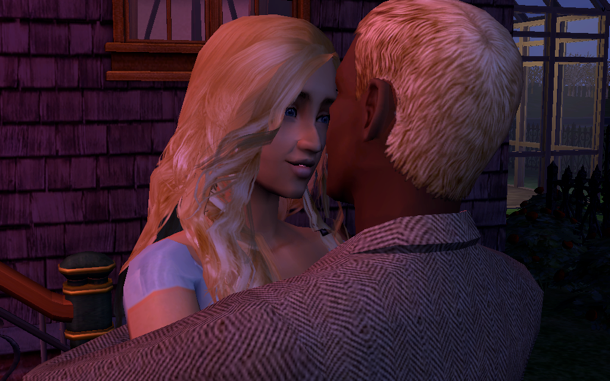 Sabina placed her hands on his chest and stared into the bottomless dark of his eyes. It saddened her to think that this might be her last opportunity to see his eyes that color. He took her hands in his.

"Come on," he said quietly. Sabina giggled stupidly.

"Where are we going?"

"Into the shed."

"It's locked."

"Dewilliker keeps a spare key over the door," he said dismissively. Sabina raised an eyebrow.

"How do you know?" Troy brought her fingers to his lips and kissed them.

"It isn't wise to ask questions that you don't want the answers to," he said. Sabina rolled her eyes.

"Lie to me then," she demanded.

"I'm the night gardener." Sabina smirked at this pronouncement and allowed herself to be lead.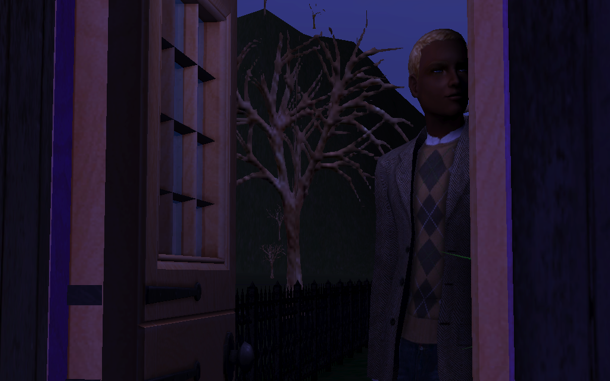 Troy scanned the potting shed as though he were looking for something in particular. The air inside was so acrid and dry that it made Sabina cough initially. It was the scent of fertilizer and old wood. Troy closed the door behind him, straightening the floor mat with his foot. The room was not heated but at least they were shielded from the wind.

"Charming," Sabina remarked, noticing a dead field mouse in the corner by the door.

"Better inside than out," Troy asserted. He took her by the hands and swung her arms playfully.
"Are you scared," he asked. Sabina smiled and shook her head. It was quite the contrary. She was excited. Troy's eyes widened. "Really? Because I'm fucking terrified." He chortled nervously. Sabina stepped back from him a little and let go of his hands. He was too infinitely perfect for her not to want all of him. Sabina gathered her nightgown at the hips and pulled it over her head. Then tossing it behind her, she slipped out of her boots. The floor was dusty and cool beneath her feet. She looked down at her toes and wiggled them, suddenly stricken by the fact that she was standing completely naked in front of Troy. Scooping her up in his arms, he kissed the tip of her nose.
"You're so beautiful," he whispered. Sabina smiled bashfully and stared down at his collar. He picked her chin up, looking her in the eyes. "I absolutely worship you. You know that, right?" He kissed her softly and she closed her eyes, focusing on her breathing. It couldn't possibly have been normal or healthy for a heart to beat at the rate that hers did. Sabina's knees began to buckle beneath her. She opened her eyes and smiled wickedly at Troy who was gradually tipping her backwards.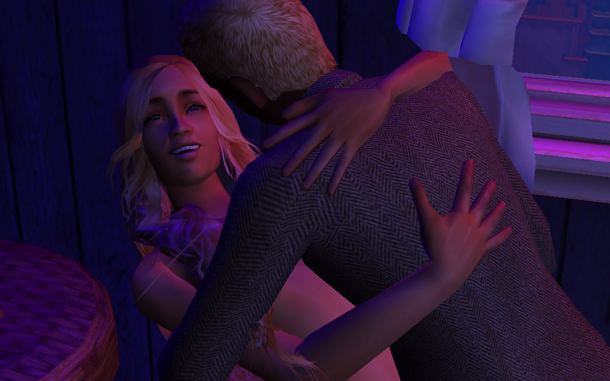 "You're mental if you think I'm going to lay on that floor, buddy," she said. Troy pulled her back up into a standing position.

"I think I'm mental for being here at all." Sabina slipped off his jacket.

"Maybe we're both a little mental."

"I can live with that." Sabina kissed him deeply and started to undo his belt. He was the only man in the world as far as she was concerned. Damn the consequences.