Sat, October 17, 2074 6:02 pm: Caliente Manor-- Middlebourne, Pleasantview


"You wicked," Siren laughed. "How could you say such things about your poor son?" Angela held back a smile of her own, trying to maintain her annoyance with Enoch. But she so loved to see Siren laugh. In Angela's opinion, Siren was far and away the most beautiful woman in Pleasantview. The bright-eyed, sheepish grin that accompanied her laughter only served to make her beauty more angelic and pronounced.




"Because he's mine, that's how. Sniveling, maladjusted little brat," Angela said. "I caught him slinking into the house late last night, absolutely reeking of pot. When I asked him where he'd been, he told me where to shove it and then promptly vomited all over my kitchen floor!" Siren doubled over in hysterics. If it had been her Laurie, she wouldn't have found the situation nearly so amusing. There was a gentle knock at the parlor door.

"Enter," Siren choked, brushing tears from the corners of her eyes.




Siren's new maid, Crystal or something, scurried into the room. She was a six-foot Amazon of a woman who nonetheless shifted nervously in and out of shadows, twiddling her fingers at her sides and biting her lower lip.

"Pardon me, but there is a young man here to see Master Lawrence," she said.




Siren cleared her throat before she spoke, battling against a fit of the giggles.

"Is Laurie expecting company?"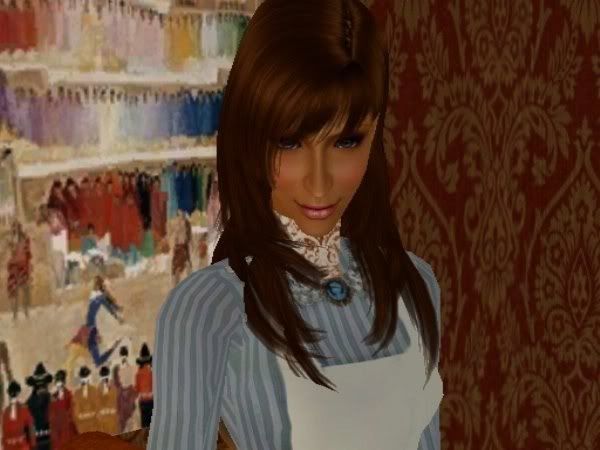 "He is, I think," the maid replied. Siren sobered.

"You think or you know?" With this, the maid became visibly more agitated. She wrung her hands forcefully. Angela imagined the girl fifty years hence, her hands thin and brittle from the squeezing alone, every surface a varicose vein, every vein a putrid shade of indigo.

"I know, I think," Crystal or whatever said. Siren rolled her eyes.




"Well don't just stand there looking stupid, send the gentleman to the parlor and run along to inform Laurie."

"Of course, Madam. Sorry." The maid left as quickly as her elk-like legs could carry her. The door closed with a firm but cautious click and Angela opened her mouth to speak.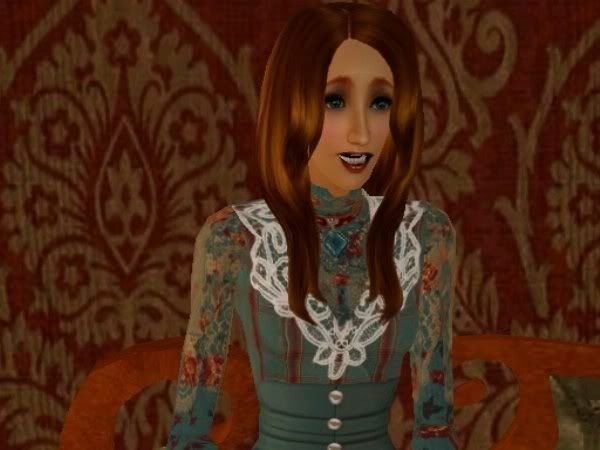 "Where on Earth did you find that one," Angela asked.




"Oh, I didn't hire her. Troy did. More for her T and A than her credentials, evidently. But I've decided to grant him that after ten years of looking at my dear, sweet Lucy," Siren sighed. "I hired Lucy in part for her looks, you know. I had to ensure that the maid was so unappealing that Troy wouldn't give her a second glance. The fact that she was bringing her daughter to live here was another good deterrent. The last thing I needed was for one of my kids to walk in on Troy diddling the help."




Angela twitched. It was difficult for her to speak with Siren about Troy as a husband. Siren had no idea how close Angela had come to marrying Troy and even less of an idea about how much she still regretted not marrying Troy. Angela shook her head.

"I don't know how you cope." Siren shrugged.




"We have an understanding. Besides, I knew very well what Troy was when I married him. I knew exactly what his faults were-- Which ones I could improve upon and which ones I couldn't. His irresistible attraction to anything in stilettos just happened to be one that I couldn't."

Angela looked away towards the door. She knew what Troy was too. In fact, Angela might have ventured to say that she knew what Troy was better than Siren did. Twenty years ago, it had been her most compelling argument against marrying him. There was another knock at the door. It startled Angela out of her thoughts.

"You may come in," Siren called out. According to the dictates of politeness, Siren ought to have stood and answered the door. But Siren had always been a little rough around the edges.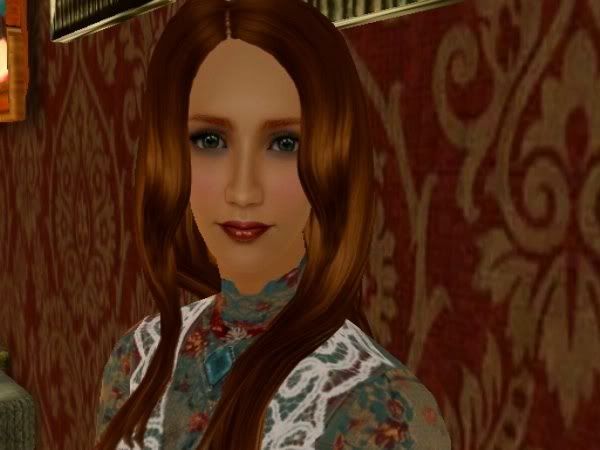 The timid young man that entered the room seemed somehow very familiar to Angela. She looked him up and down while he gazed back at her like the proverbial deer in the headlights. His broad-shouldered, narrow-waisted torso was oddly disproportionate to his short and spindly legs. It was as though different areas of his body were developing at different rates. Angela also noted his hands, which were long and delicate like Laurie's. But it wasn't until she stared into his mournful little eyes that she knew why he seemed so familiar.

"Good evening ladies, I'm--"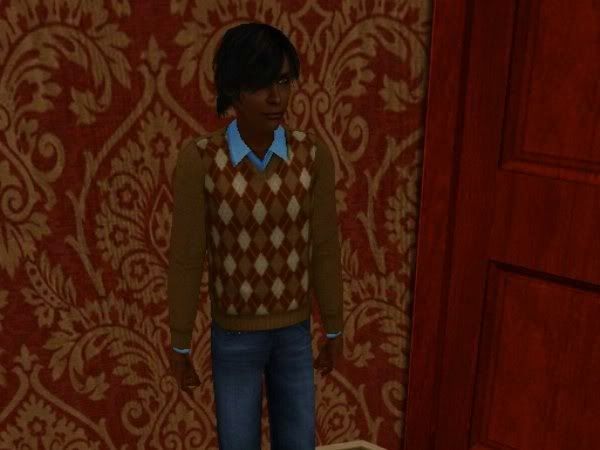 "I know exactly who you are," Angela said, cutting the boy off. "You're Jorge LeCroix's little boy. The eyes, they're positively unmistakable. Wouldn't you agree Siren?" Angela turned to Siren who bowed her golden head in agreement. Angela extended her hand to the young man.




"Angela Taylor Pleasant-Goth," she said. The young man took her hand and shook it. They were across purposes. Angela had lent him her hand so that he might help her up.

"Macaulay Augustine LeCroix," the boy said in a rush. Angela stood unaided, giggling girlishly.




"Oh no dear boy, that is not the way that I greet fine young gentlemen." Before Macaulay had time to ponder how he should have greeted her, Angela wrapped her arms around his neck, pulling him into a crushing hug. Afterwards, Macaulay turned towards his hostess.




"I'm Siren Chloe Caliente and you may shake my hand," she said. The boy smiled broadly and did as he was told.

"It's a pleasure to meet you," Macaulay said. Angela linked arms with the alarmed little boy, prodding him towards her chair. Macaulay's footing faltered beneath him to the point where Angela was almost dragging him. Siren hid her face behind her hand, rather poorly disguising her mirth.




"Now, why don't you have a seat next to me so that I might take a look at you," Angela said, tugging Macaulay down onto the chair. "It's been years since I last saw your father."




"You know my father, Mrs. Goth?" Judging by his expression, the prospect did not seem to appeal to him. Angela was unsure why. She remembered Jorge as being the strong but silent type that girls absolutely melted for, with skin the color of rosewood and silvery blue eyes like sea foam. Angela combed the tide of Macaulay's stare, hoping to find remnants of the brooding intellectual that she'd often fantasized about as a girl.




"Not terribly well I'm afraid but we did attend school together," she said. "Lovely man. There were broken hearts for miles when he married, weren't there Siren?"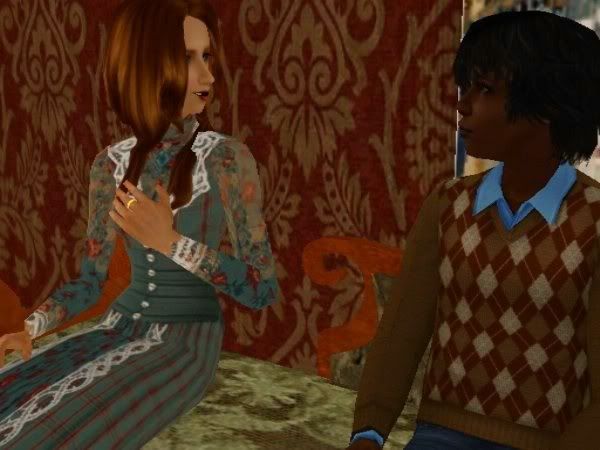 "Laurie should be down to see you any minute now. Provided, of course, that the maid does not get lost on the way to his room," Siren said. Angela soured but only a little. She saw no need to change the subject.




"And of course your sister is married to my nephew," Angela continued.

"Oh. Phoenix is your nephew?"




"Yes, by marriage. Small world, isn't it? He's also my brother-in-law's half-brother but it has always made more sense for me to think of him as my nephew." No sooner had those words left her mouth than the door swung open wide. The knob collided noisily with the wall, causing all three of them to jump. Laurie strutted into the room, grinning.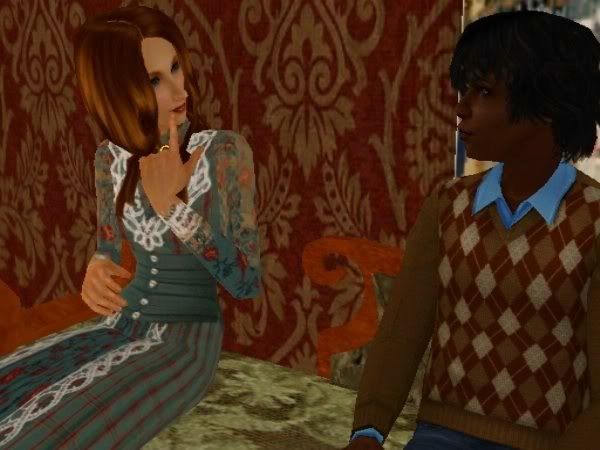 "Mom, Angela, Cully," he said.




"Where are your manners, boy," Angela huffed. Even Enoch could have done better than that. Between Laurie and his mother, that parlor was becoming a complete bedlam of impoliteness. What must the LeCroix boy think of them?

"Good afternoon," Macaulay ventured. He beamed brightly at Laurie, who, though still smiling, seemed to be purposely avoiding Macaulay's gaze.




"Good afternoon, Cully." Laurie shook Macaulay's hand but peered somewhere near his shoulder. He then nodded in Angela's direction. "And I apologize for my previous rudeness, Angela," he chuckled. Angela did not think that it was a laughing matter. Laurie bent down and kissed her on the cheek.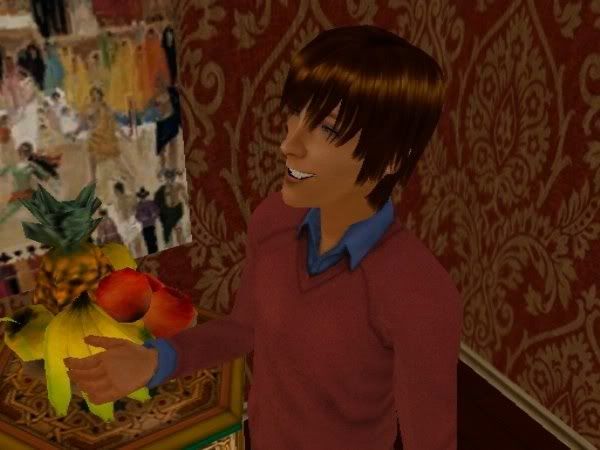 Siren looked on. Angela wondered what she could see from her vantage point that was making her smile so. Laurie patted Macaulay on the arm.

"Come on, Cully. I'm sure that these ladies would like to get back to sharing their slanderous gossip," Laurie said. Siren turned to Angela in mock disbelief.

"You feed them well, change their filthy diapers, wipe their snotty noses and how are your efforts repaid," Siren said. Macaulay stood.

"It was very nice meeting the two of you." Angela smiled benevolently at him.

"And you likewise, dear," Angela said. Siren turned to Macaulay.

"Absolutely. You are welcome here anytime you like."

"Thank you."




"Can you stay for dinner," Laurie asked.

"No, I'm afraid not. My dad and I always eat together on Saturdays..." Angela stopped listening to their conversation. There was something very unusual about Laurie's body language. If she hadn't known him from birth, she might not have noticed.




But Laurie, who was ordinarily slouched and lumbering was currently standing perfectly upright. He also seemed a bit more energetic, making broad hand gestures like an over-inflated politician.




And the touching! He was trying to be casual about it. Here and there, an accidental brush against Macaulay's hand or sleeve. A pat on the arm for emphasis. Laurie was not the sort of person who absently touched other people. But Angela would never dare say anything to Siren.