Weds, December 2, 2074 8:04 pm: Caliente Manor- Middlebourne, Pleasantview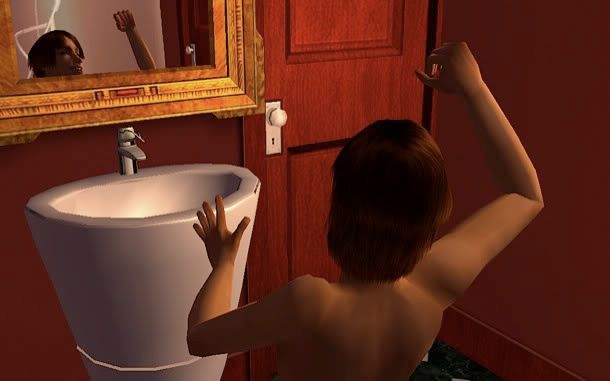 Laurie slid the shower door closed behind him, humming and nodding in time with a strain of music that only he could hear. It had been a good day but when he tried to pin down the source of his cheerfulness, he came up with little. Enoch and Cully dropped by earlier without incident, which was a continuing source of relief. Not that Laurie thought Enoch would ever intentionally jeopardize his friendship with Cully by blurting out, "Dude, Cull, Laur is totally scoping your nutsack!" but Enoch did have the unfortunate habit of being... Enoch. Laurie twisted the corner of his towel into a point and used it to dry his ears, singing aloud with his internal concert.

"I'm an alligator! I'm a momma-poppa come'n for you! I'm a space invader! I'll be a rock 'n roll'n bitch for yooouuu!" The floor was slippery with condensation. Laurie propelled himself towards the sink, pushing off with his right foot and steering with his left. "Keep your electric eye on me, baby! Put your ray gun to my head! Press your space-face close to miiine, love. Freak out in a moonage daydream, oh yeah! Thank you, Strangetown! You've been an amazing audience. Goodnight and God bless!"

Laurie cupped his hands against his mouth, mimicking the roar of an appreciative crowd. The bathroom walls collapsed around him, revealing a brightly lit stage in the middle of the desert. The world was a vast, uninterrupted stretch of midnight. Laurie scrubbed the towel against his dripping head. Yeah, he was definitely moving to Strangetown when he grew up. Maybe he would study reptiles if the whole bug thing didn't work out. Reptiles were cool. Laurie pulled on the boxer shorts that sat neatly folded by the toilet. He twirled a random lock of hair, observing his reflection in the mirror. Maybe he should get dreadlocks. His father would hit the roof if he got dreadlocks.

Hurricane Lawrence left the bathroom a slight wreck—All steam-fogged glass, clogged drains and standing water. As he headed down the corridor, he pondered his own propensity towards moisture and concluded that without Elmira, he might have died of trench foot ages ago. Note to Self: Thank Elmira for drastically reduced occurrences of tench foot in the Tellerman-Caliente household. Elmira would think that was funny. He did like making Elmira laugh, particularly when she was working and right before she whacked him with a dishcloth. Elmira was a doll. Too bad Laurie didn't swing that way.

Around the corner, Laurie took hold of a cold, brushed metal doorknob and flung open his bedroom door. What waited for him on the other side gave him a horror-movie-esque jolt of "the phone call is coming from inside the house" proportions.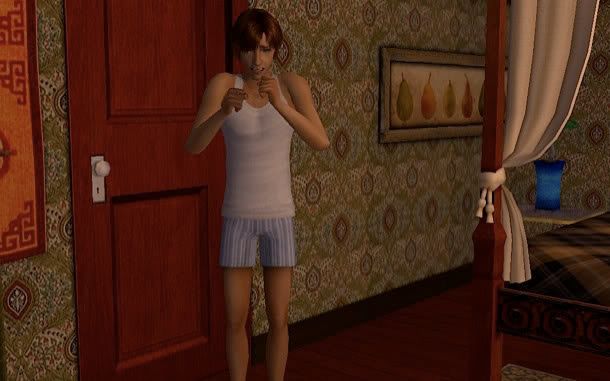 Cully slouched in the corner of Laurie's room, eying him apologetically. Laurie closed the door behind him, horrified by his half-naked body.

"Shit Cull, I thought Dad drove you home!" Laurie yanked open his dresser drawer and began to rummage, unearthing a green thing. What was this? Pants? Were these even his? He didn't know he owned these. Laurie dug deeper to find an old pair of jeans and a t-shirt.
"We made it all the way to the garage when Enoch, in his infinite wisdom, challenged your dad to a game of pool. Winner gets 55 million simoleons, payable in bottle caps." Laurie snorted, pulling the shirt over his head.

"Sounds like high stakes," he said.

"Yeah and no matter who wins, you'll be the one to drink enough soda to produce the needed coinage." Laurie snickered, smacking his forehead in mock-realization.

"You're right! Gee, I had better start drinking. You want something from downstairs?" Laurie made for the door, partly to prolong the joke, partly to distance himself from the embarrassment of a few moments prior.

"Wait! Laur, I wanted to talk to you for a sec. If that's okay." Macaulay's voice trailed off as he spoke and Laurie thought that he detected a hint of nervousness laced into his run-of-the-mill soft-spokenness. Laurie's hand fell away from the door, his escape plan shattered.

"Sure thing, pal." Pal? Did he really just say that? Laurie slunk over to the edge of his bed, mentally berating himself the entire way. It was a wonder that he didn't trip over his own feet.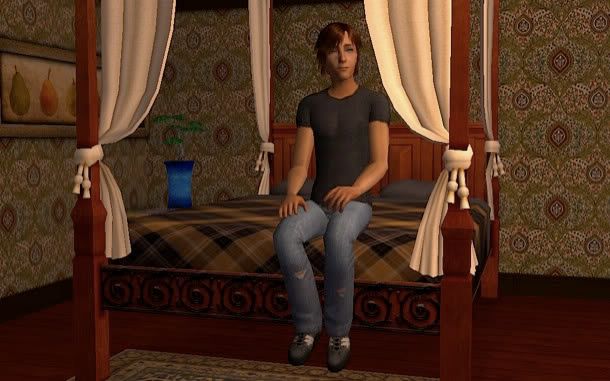 Once he was settled, Laurie drummed his palms upon his lap, hoping to look casual.

"Sooo, what's up Doc?" Laurie smiled weakly at his friend, remembering too late that Macaulay didn't own a television, had probably never seen a cartoon in his life and might not have gotten the reference.

Cully opened his mouth and closed it, knitting his brow. After a few such false starts, he made his way over to the bed and sat down next to his friend. They were so close that Laurie could feel the warmth of Cully's body emanating through his clothing. Laurie prayed that he wasn't blushing. Ba reginam, don't let him be blushing.
"Do you remember the first time I came here-- That conversation we had about how long I had been in the pond?" That topic was light years away from what Laurie had been expecting. His eyebrows rose involuntarily as his shoulders relaxed. Sure he remembered. How could he forget anything pertaining to that episode of his life? He still had nightmares. Laurie nodded, urging Cully on. "Well, the more I think about it, the more I think that maybe what kept me from drowning before you got there and how you heard the splash and how you managed to find me and everything... I think it was magic. I think I might have used magic."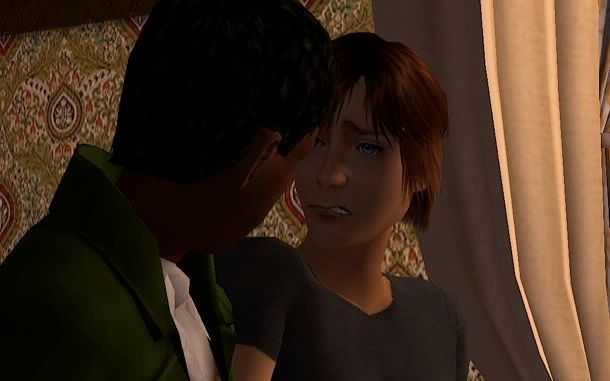 Laurie wanted to wrap his arm around Cully's waist, run his fingers through Cully's hair and give him a reassuring grin but the best that Laurie could manage was a confused grimace coupled with a shoulder-to-shoulder nudge.

"Cully, no one uses magic by mistake, especially not a pair of watered-down partlings like us. We misjudged the time is all. And those woods echo. There are plenty of non-supernatural explanations for what happened out there." Macaulay bit his lower lip, clearly struggling with what he was trying to say. When his eyes met Laurie's once more, they were a little sad.

"Have you ever felt sort of contained? Like everything you are is just stuck behind your ribcage and no matter what you do, no matter how loud you scream, the pressure just doesn't go away?"

"Er-- Not sure I follow you there," Laurie said softly. Macaulay picked at a loose thread on Laurie's comforter, gazing downwards as he did. Laurie was struck with the urge to kiss Cully's half-closed eyelids, his thick dark lashes. Laurie never saw himself in a romantic light but maybe he could. For this boy, he could. It wasn't just because Macaulay was handsome or kind or witty. It was for his depth of feeling that Laurie wanted to be near him, listening to him talk even and especially when Cully's sentiments confused him. He and Cully fit. Laurie needed the wellspring of Cully's emotions, just as Cully needed the levity of Laurie's shallowness. Damn, was that really all that Laurie had to offer? Cully peered upwards at Laurie, still twining the thread between his fingers.

"I feel like that all the time. Sometimes its so bad, I can't breathe."

"Maybe you have asthma." Cully laughed and placed his hand over Laurie's mouth. It took every ounce of willpower that Laurie possessed not to purse his lips against Cully's palm.

"Okay asshole, this is serious. I am trying to tell you a serious thing. Laurie, I am going to Ethelden to study."

"Macaulay!" Laurie rarely used Cully's full name, at least not out loud but he felt as though the ground had opened up beneath him. Macaulay's name was the sound of Laurie's breath leaving his body. Cully took his hand away from Laurie's mouth.
"I didn't use magic by accident, Laur. I willed you there. I wanted to belong to someone and then there you were."

Laurie turned Cully's words over and over looking for any interpretation other than the one that made him nervous enough to shake and yet happy enough to know that he had heard incorrectly. Laurie picked up his head, not knowing what to say but determined to say something, just as Cully solved the dilemma for him.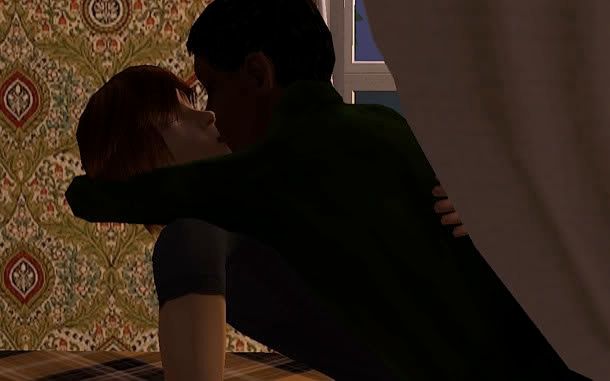 This was not the way that Laurie had fantasized about this happening, with his heart still sinking painfully low in his stomach from the news that Cully was leaving. The thought of it made Laurie cling tighter. His hands dug into Cully's jacket, clasping so hard that it hurt. He rolled over, anchoring their bodies to the bed as though to prevent him from floating away.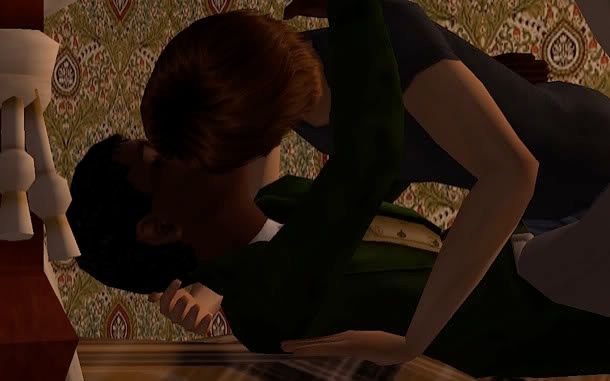 Laurie had never kissed another person before and as far as he knew, neither had Cully. It probably wasn't normal for him to press his lips so tightly against Cully's that he could feel the teeth behind those lips. He thought about opening his mouth but that posed an entire minefield of unknowns. Cully wrapped his legs around Laurie's and Laurie let out a slight gasp as his groin brushed against Cully's. Maybe this wasn't Cully's first kiss. For a moment, Laurie burned with jealousy over a person that he didn't even know existed.

Cully slipped his hand beneath Laurie's undershirt, resting on Laurie's bare side. Laurie shifted his position as the toes of his sneakers slid across the rug and his erection became more difficult to ignore. It was then that he felt a jolt of electricity between Cully's hand and his side. The sensation spread throughout his torso, set his blood on fire. Laurie pulled away.

"Sorry." Cully winced. Laurie concentrated on the feeling. The same thing had happened the first time they shook hands and now, in this current context, he found that it made him slightly euphoric. Laurie shook his head.

"Do it again," he said. Cully smiled and as Laurie went in for another kiss, Enoch's voice drifted up from the stairwell, killing the moment dead.

"Yo, Mickey Lickey! Time to go!" Laurie groaned miserably. Macaulay kissed the tip of his nose and shouted towards the door.

"Tshin-tshin, villmen!" Laurie rolled pitifully onto his back and folded his hands on his chest. This was what being a beached whale must feel like. Cully pushed Laurie's hair away from his face and kissed him quickly, casually, as though this was how they always said goodbye. "You'll come see me? In Veronaville?"

"Of course," Laurie muttered, his brain still buzzing with joy and sadness and teenage boners that refused to go away. Laurie sat up on the bed as Cully left the room, neither one of them brave enough to admit to what went without saying.