Thurs, November 5, 2074 6:43 pm: Arbormoor Manor- Arbormoor, Pleasantview
Macaulay had always despised his home. It was a world of skeleton keys and melted wax. Nothing ever changed here. Not even the people.
In the scullery, Jorge slouched against the wall in the silent company of a few old friends. He did not bother to look up when Macaulay entered the room. In fact, he didn't move at all. Macaulay's stomach clenched painfully from an all too familiar fear- the fear that Jorge had finally overdone it. Slowly, Macaulay crept towards his father. He tapped Jorge's boot with the toe of his sneaker and blearily, Jorge raised his head. Macaulay exhaled, only then realizing that he had been holding his breath.
"You've really got to stop scaring me like that," Macaulay said.

"Wha-" Jorge's eyes were a muddled shade of crimson and they regarded Macaulay as though they had never seen him before. Deciding that this was not the worst condition that he had ever found his father in, Macaulay walked over to the fridge.
"You know in some families, normal families, a kid does not habitually have to worry about coming home to a parent who may or may not have died of alcohol poisoning during the day. But I have to commend you, Dad. Not many men have the inclination or the constitution to drink whatever unholy cocktail it is that you've invented down there. I mean, what is that? Whiskey, vodka and sauvignon blanc? And since when did we start keeping the chips in the refrigerator?"

"Hell are you talking about," Jorge groaned. Macaulay rolled his eyes apathetically but found that he was still trembling from the after-shock.

"Alright, let's try something a bit simpler. How was work today, Dad?"

"Hunh?" Macaulay grabbed a bag of potato chips from the top shelf and turned to face his father.
"You're an absolute wealth of congenial chitchat, aren't you?" He plunged his hand into the bag of chips. Jorge pushed himself into an alternate position on the floor, clearly aching.
"I found three bottles of Arbormoor Merlot under the floorboards in Lavinia's closet today," Jorge announced suddenly. "One of them was corked but the other two looked kind of ok. Care to join me later?" Macaulay stopped eating. It was difficult to tell just how lucid Jorge was. Did he even know what he was saying?
"I think I'll forgo asking you why you were pulling up the floorboards in Vin's closet and just say that I'll be watching you like a hawk for the remainder of the evening. All you'll be drinking tonight is water and plenty of it." Jorge looked both confused and affronted.
"What do you think, that I dig up flooring for fun? I knew the merlot was there. I was hiding it from your mother. I used to try to save the good stuff for special occasions and Kelly would always find it and drink it. I needed a good hiding place. Turns out that hiding place was so good that it took me ten years to remember it." Macaulay crumpled the empty bag of chips and tossed it onto the counter.

"So what's the occasion, Dad?" Jorge cleared his throat and leaned back against the wall. He squinted, gazing at Macaulay distantly as though he were attempting to peer through a veil of smoke.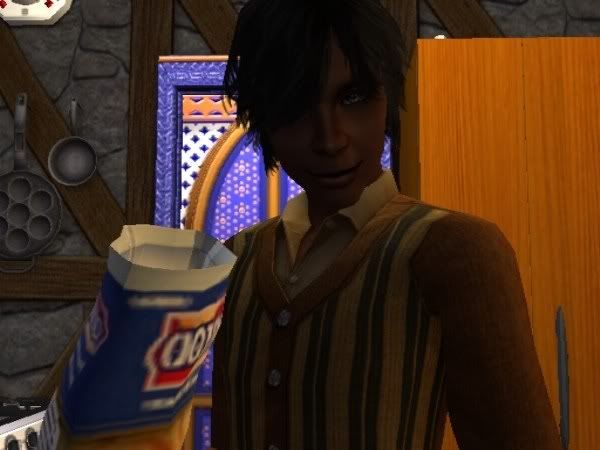 "Sorry?"

"You wanted to crack open the merlot tonight so what's the occasion?"

"Oh that. No occasion. Quit the restaurant."

"Is that why you came home and got plastered?"
"What? No. No, I've got some things on my mind. Your grandmother called." Macaulay's heart skipped a beat. His grandmother? When he was little, he'd often wished his grandmother would come take him away. Sometimes, he would squeeze his eyes shut tight and try so hard to will her into existence that it made his nose bleed. When he thought of her, he imagined a portly but handsome woman of about seventy with snow white hair and an arsenal of cookie recipes. But in retrospect, all of that seemed highly unlikely. Macaulay's grandmother was probably nowhere near seventy. From what he knew of her, she was a former debutant who spent all of her time at fashionable gatherings in Veronaville. He had no idea what she looked like. Macaulay had only ever seen one photo of his grandparents and it was taken from afar. They could have been anyone.

"She thinks that I should marry decently before I spawn any more half-blood mongrels. Her words." Macaulay was stung but he wouldn't dare let it show.
"Sounds like a charming lady."

"I'm glad you think so. She wants to meet you."

"Why?" Jorge shrugged.

"Curiosity maybe. I don't know. You are her grandson. I told her no, anyways."
Macaulay was glad that they were having this conversation. It had been several years since he had bothered to daydream about some fictional grandmother but even so, he felt grounded in the fact that he could securely cast aside his childish notions.

"Need me to help you up, Dad?"
"Help me up? What do I look like to you?"

"Do you really want me to answer that?"

"No, I don't suppose I do." Macaulay offered Jorge his arm, which Jorge took. He was considerably heavier than Macaulay and as he stood, they both staggered. Macaulay smiled wearily.
"Where would you be without me," Macaulay asked.

"Tell you the truth," Jorge said. "I don't even want to think about it."